Details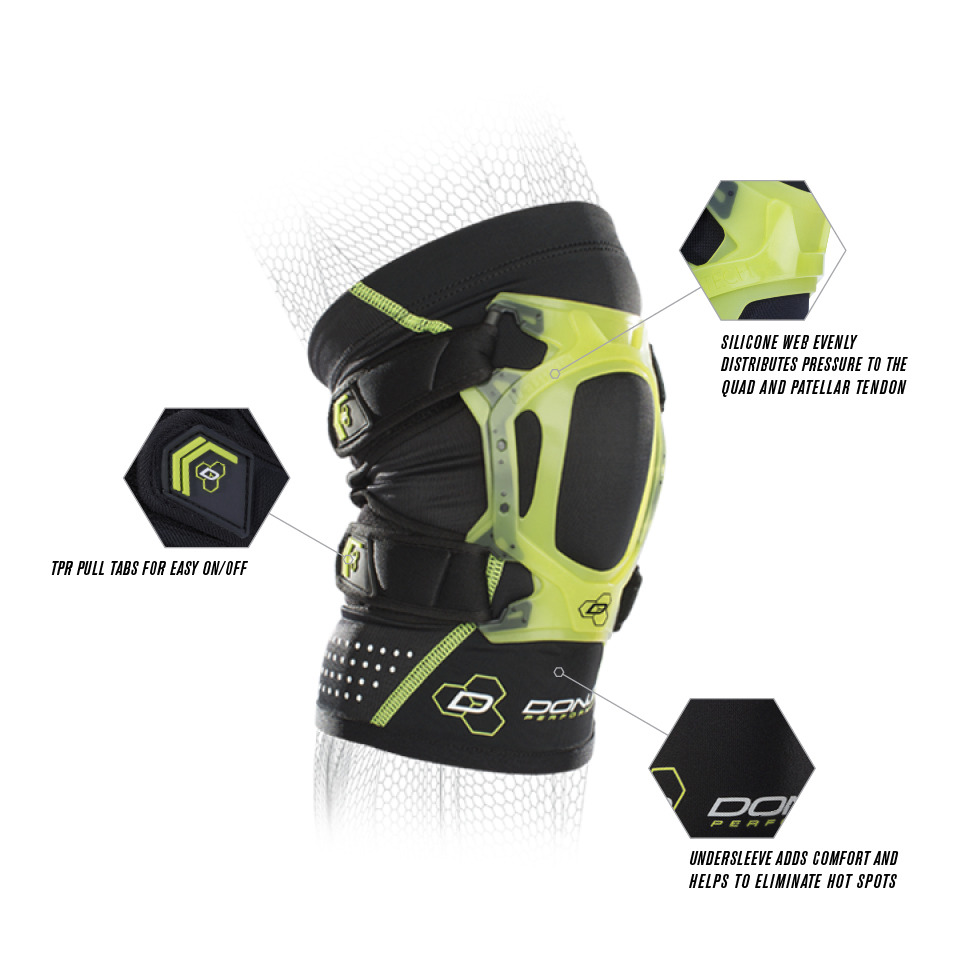 Our DonJoy Performance Webtech Short Knee Brace features an innovative three part system that is ideal for relieving common forms of knee pain often associated with sports injuries, overuse injuries and degenerative conditions. Specifically, the Short Knee features a unique web structure that evenly distributes pressure over the Quadriceps and Patellar Tendons, and helps to stabilize the patella and ensure proper tracking. Compression molded back pad adjusts easily to optimize fit and comfort, and a four way stretch lycra/mesh undersleeve eliminates hot sports and provides an added layer of protection. Compared to the Webtech Knee Brace, the Short Knee is approximately 50% shorter which makes it ideal for relieving pain often associated with tendonitis, commonly referred to as runner's and jumper's knee.
Features & Benefits
Silicone web surrounds and stabilizes the patella to ensure proper tracking
Strategic bracing design helps fight a wide variety of knee pain while allowing full mobility
Compression molded back pad with mesh for maximum comfort and breathability
Undersleeve with anti-migration technology
TPR pull tabs for easy on/off
Reflectivity for enhanced visibility in low light conditions
Size Chart & Fit Guide
Measurement taken at the center of the knee (directly over patella)
| Circumference | Thigh (Above knee 15cm) | Knee Center | Calf (Below knee 15cm) |
| --- | --- | --- | --- |
| XS | 13.0''-15.5'' | 12"-13" | 10"-12" |
| S | 15.5"-18.5" | 13"-14" | 12"-14" |
| M | 18.5"-21" | 14"-15" | 14"-16" |
| L | 21.0"-23.5" | 15"-17" | 16"-18" |
| XL | 23.5"-26.5" | 17"-19" | 18"-20" |
How to Measure
1. Stand with your legs shoulder-width apart, legs slightly bent and leg muscles contracted.

2. Measure up six inches from the center of your knee with a tape measure, as shown.

3. Measure the circumference of your thigh at the 6-inch mark, as shown.

4. Measure down six inches from the center of your knee with a tape measure, as shown. Then measure the circumference of your calf at the 6-inch mark.
Still have questions? Call our support team at 844-331-7767 to chat with a fit specialist!
How to measure
Product Questions
9/30/2016 6:03 AM

Hi, Is the Webtech good for water sports, like wakeboarding?
This brace can be worn in the water. We always recommend rinsing the brace with water and allowing the brace to air dry completely between uses.

at

9/29/2016 11:07 PM

Will this help with severe patellar tendinitis?
This brace will help as it will put prssure on the tendon that hurts to reduce the stress its puts on the bone, as well as the webbing will act as a shock absorber.

at

See More Questions

8/23/2016 5:08 PM

Is your webtech knee short knee brace good for both left and right knee?
I want them for patella stability of my left knee and for support of my right knee due to arthritis behind the top of my knee cap that cause some pain.
Thank you.
Hello,

Yes, the brace is universal you can wear it on either knee.


thanks for contacting Donjoy Performance.

at

8/11/2016 11:40 PM

at

7/26/2016 3:53 AM

I've had meniscus repair 3 months ago, but still feel discomfort & tightness in and around the knee. I've also had treatment for ITBS. Is the Webtech short knee brace enough support? I am trying to remain as active as prior to the knee surgery with running and cycling.
The Webtech Short Knee Brace was designed mostly to stabilize the patella. A better brace for a healing meniscus would be the Reaction Web Knee. https://www.betterbraces.com/donjoy-reaction-knee-brace

at

7/21/2016 7:32 AM

My 14 year old daughter needs a brace to wear during hockey (goalie). She has patella femoral tracking problems with pain. She needs a brace that will stay in place during activity.
As a goalie, it may be better for her to to try the Tru-Pull Lite, https://www.betterbraces.com/donjoy-tru-pull-lite, which is a bit stronger brace for that type of activity.

at

7/17/2016 4:31 PM

I am looking for the Webtech Short Kneebrace in extra small, but cannot find it online. Where can I find an extra small? Thank you.
Unfortunately the WebTech Short does not come in an X-Small. You can contact our Brace Experts for assistance with finding a brace that fits your measurements. Please call 1-844-331-7767

at

5/3/2016 8:17 AM

Hi, I have had an ACL recon years ago and wear a knee brace. However, I am looking for extra support for my aching patella. Would the short webtech with the padded anaform sleeve as a combination be a good option to help my patella and also provide some knee joint stability?

The Webtech and short Webtech come with undersleeves so I would suggest using those as the Anaform undersleeve may be to thick for the brace to be effective

at

5/2/2016 12:46 PM

at

4/10/2016 6:59 AM

at

3/30/2016 5:58 PM

Hello,
I play slow pitch softball and I am the catcher. How does this brace effect or hold up to the squatting into a catcher position and reaction time of jumping up for plays?
I have pain of the knee cap and swelling of the patella. Will this help with that pain?
Do you have any other recommendations?
The Webtech Short Knee Brace is going to be the best brace that you will want for your knee conditions and activty level

at

1/29/2016 11:28 AM

I had an impact fracture on the outside of my left knee one year ago and a MCL stage II tear (no surgery). From time to time while bowling or playing golf my knee fatigues to a point where it collapses. Which brace would help?
The Webtech Knee Brace should provide you will general support and help with any anterior knee pain that you may get.
https://www.donjoyperformance.com/webtech-knee-brace

at

1/26/2016 1:30 PM

I play football, offensive line, and have a lot of pain just bellow my knee cap. would this be a good option for me? thank you
Yes this is a good option for you

at

1/25/2016 12:46 PM

Would this brace be good for support in the medial meniscus? Ive had 5 surgeries and a meniscus transplant and i am looking for the best brace for relief
I would suggest the longer brace for you. The Webtech Knee would give the support you need for the meniscus.
https://www.donjoyperformance.com/webtech-knee-brace

at

1/19/2016 12:43 PM

Is this the right brace for providing support for olympic style weightlifting?
It can be worn by a weightlifter but I would need to know your diagnosis to tell you if it is the right brace

at

1/18/2016 3:47 PM

I have gone through a few different knee braces for Chondromalacia and they all seem to slide down my leg after some time. Would you recommend this brace, or any other, to combat that? I really want one that stays in place. Thanks!
Yes the Webtech short knee brace should be a good option for you

at

11/18/2015 3:49 PM

I have patellofemoral pain syndrome which affects the medial side of my patella when I go into a low squat position. I'm a varsity level rower so I need something extremely lightweight/has the least amount of fabric covering my knees. This brace looks like it's the best in terms of weight and comfort, but will it provide adequate support?
Justine
This brace should provide you with the support you need around the kneecap

at

11/10/2015 6:54 PM

I've had patellar tendinitis on my left knee for about a year now - off and on based on any time I try and resume soccer. Would the webtech short knee brace offer the most support and pain relief for this issue or would the webtech knee brace be even better (it's bigger but bigger isn't always better). I want whatever will protect, support and disengage he patellar tendon the best. Thanks
Chris
The Webtech knee brace(bigger) would be a better choice for your problem

at

11/7/2015 6:17 PM

Does this brace come with the under sleeve for the $70 price?
Yes the under sleeve comes with it

at

8/30/2015 8:18 AM

Hello,
I have chronic patellar tendonitis(after this long it would be considered tendinosis maybe??). several years of pain off and on, mostly on. Any type of quick or sudden move tends to set it off. I am trying to choose between this and the webtech knee strap. I have a donut style patella knee brace(Mueller or Mcdavid) and it doesn't seem to provide much relief for me and this looks to be a similar mechanism, but perhaps a bit stronger stability. Thoughts or suggestions?
Ben
Sounds like you might need a bit more support than just a patellar strap. The Webtech Knee Brace will provide more support to the front of the knee and the pattelar tenson. The webing absorbs force and dispeares it within the leg to decrease anterior knee pain.

at

8/15/2015 11:03 AM

My son has had 2 medial femoral bone contusions while playing football. We are looking for some extra protection for that inside knee area when he's back on the field and also support to the inside MCL, which has been sprained. Is this a good choice or is there something more effective for these injury types? Thank you
Lou
The Webtech would not be the best brace for your son. I would suggest the Playmaker II knee brace. This brace has bilateral hinges that will protect the knee from medial and lateral forces and help stabilize the knee. http://www.betterbraces.com/donjoy-playmaker-ii-knee-brace

at

7/22/2015 11:10 PM

I have medial subluxing of kneecap after a fulkersons procedure. I currently use the woman's defiance III with a tru pull attachment. I am wondering if the smaller webtech short knee brace will give the same level of protection for the mal tracking that the bulky defiance with tru pull attachment gives. Thanks!
The WEBTECH SHORT KNEE BRACE only offers a MILD support compared to the DEFIANCE.

at
Reviews
Webtech Short Knee Brace
Write Your Own Review

Your honest feedback
helps other visitors
in selecting their products
No reviews yet.