Details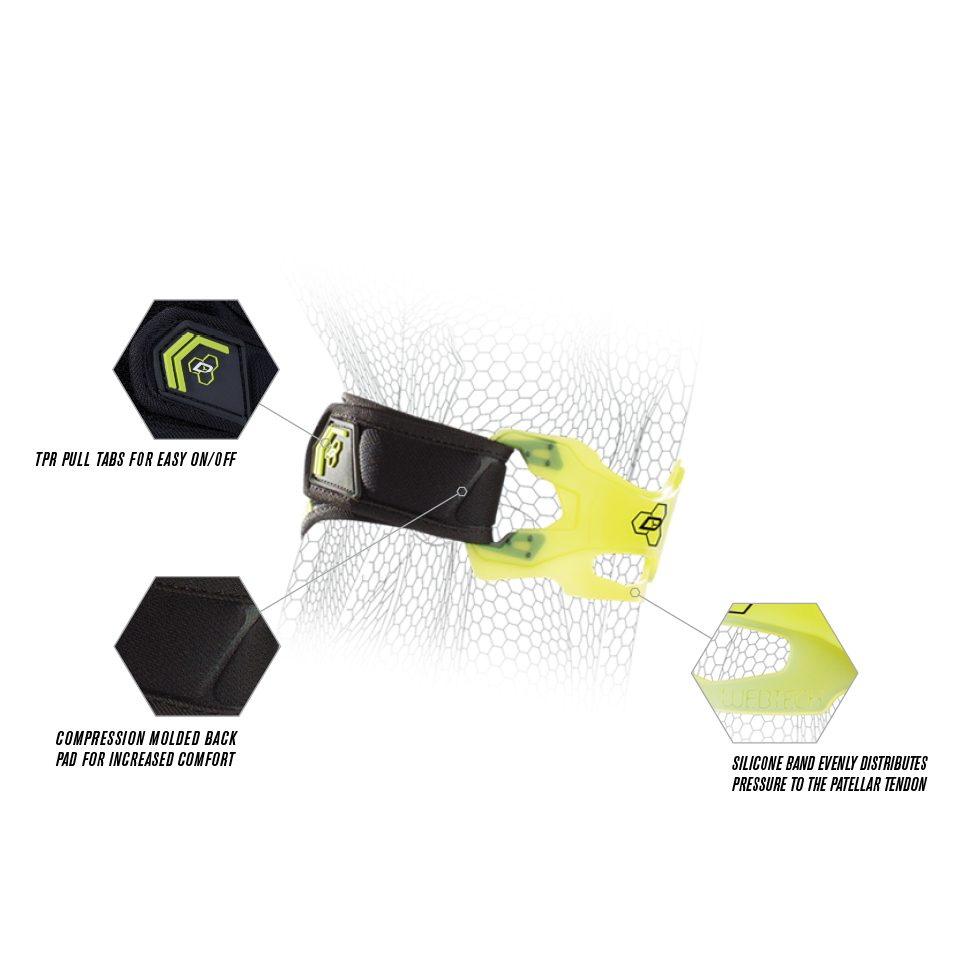 Our DonJoy Performance Webtech Knee Strap features a two-part system that provides all day comfort for targeted pain relief from Patellar Tendonitis. The silicone strap is designed to fit with the contours of the knee, and works with the compression molded back pad to evenly distribute pain relieving pressure on the Patellar Tendon. The Webtech Knee Strap is the tool for overcoming pain from runner's knee.
Features & Benefits
Silicone web applies even pressure to the Patellar Tendon for pain relief
Contoured top and bottom lines for improved fit
Compression molded back pad with mesh for comfort and breathability
TPR pull tabs for easy on/off
Reflectivity for enhanced visibility in low light conditions
Size Chart & Fit Guide
Measurement taken at the center of the knee (directly over patella)
| Circumference | Knee Center |
| --- | --- |
| S | 13"-14" |
| M | 14"-15" |
| L | 15"-17" |
| XL | 17"-19" |
How to Measure
1. Stand with your legs shoulder-width apart, legs slightly bent and leg muscles contracted.

2. Measure up six inches from the center of your knee with a tape measure, as shown.

3. Measure the circumference of your thigh at the 6-inch mark, as shown.

4. Measure down six inches from the center of your knee with a tape measure, as shown. Then measure the circumference of your calf at the 6-inch mark.
Still have questions? Call our support team at 844-331-7767 to chat with a fit specialist!
How to measure
Product Questions
9/30/2016 2:51 PM

I was wondering what you would recommend for a brace for bike riding. I was thinking of the trizone brace or just the the web tech knee wrap. Any suggestions
Either brace is good for bike riding as they are low profile. It will just depend on your injury. The Web Tech Knee Strap is designed to put pressure for patellar tendonitis. While the trizone will apply mild pressure to that area, the brace is designed to help with mild tracking problems at the knee cap, as well the silicone helps promote blood flow and teh compression of the sleeve helps with swelling at the knee joint.

at

8/9/2016 12:00 AM

My daughter's measurement around her knee cap is only 11 inches. Is she too small for the smallest size?
Yes, unfortunately, she is too small for this. The smallest measurement is 13"

at

See More Questions

7/22/2016 3:46 PM

Hello, I am a aspiring highschool basketball athlete. I have recently been derailed by patellar tendinitis in both my knees and was wondering if this would be a good product for me? Also would you recommend wearing this under or over a knee sleeve? Also, would you be able to give me any info on what insurance could do to help me cover the cost?
the WEBTECH KNEE STRAP would give you a mild to moderate support for your patellar tendonitis. We would recommend placing the brace directly against the skin, not over a sleeve. DonJoy Performance is an online retail only store, we do not bill insurance.


at

7/9/2016 8:54 AM

I previously bought a patella tendon strap (Shock Doctor) and while playing basketball or jumping the strap would come of. The velcro just wouldn't stay in place. I am worried that the same thing will happen with this strap.
The Webtech Knee Strap has a 6 month warranty. If for some reason the velcro wore out more quickly than that we would be happy to send you a replacement.

at

6/5/2016 8:24 PM

I had ACL recontruction where my patellar tendon was used as the graft for my ACL. Through physical therapy and currently in my return to sport (wakeboarding) I am plagued with tendonitis and pain on the front of my knee. With a third of my tendon missing and its current sensitivity would this product help or irritate me ?
The Webtech knee strap will provided tension/compression over the patella tendon to relieve pain. It's actually a great option for use in the water. If you are looking for an overall pain relieving brace I also recommend the Trizone knee suppport.

at

4/25/2016 7:41 PM

My daughter suffers from tibiofibular joint issues. We're looking for joint compression to let the joint heal. Is this the best brace?

The Webtech Knee Strap is to help prevent pain associated with patellar tendonitis. For joint compression you will want a sleeve such as the Anaform Warming Knee sleeve. https://www.djoglobal.com/products/anaform-warming-knee-under-sleeve

at

1/20/2016 3:10 PM

at
Reviews
Webtech Knee Strap
Write Your Own Review

Your honest feedback
helps other visitors
in selecting their products
No reviews yet.