Details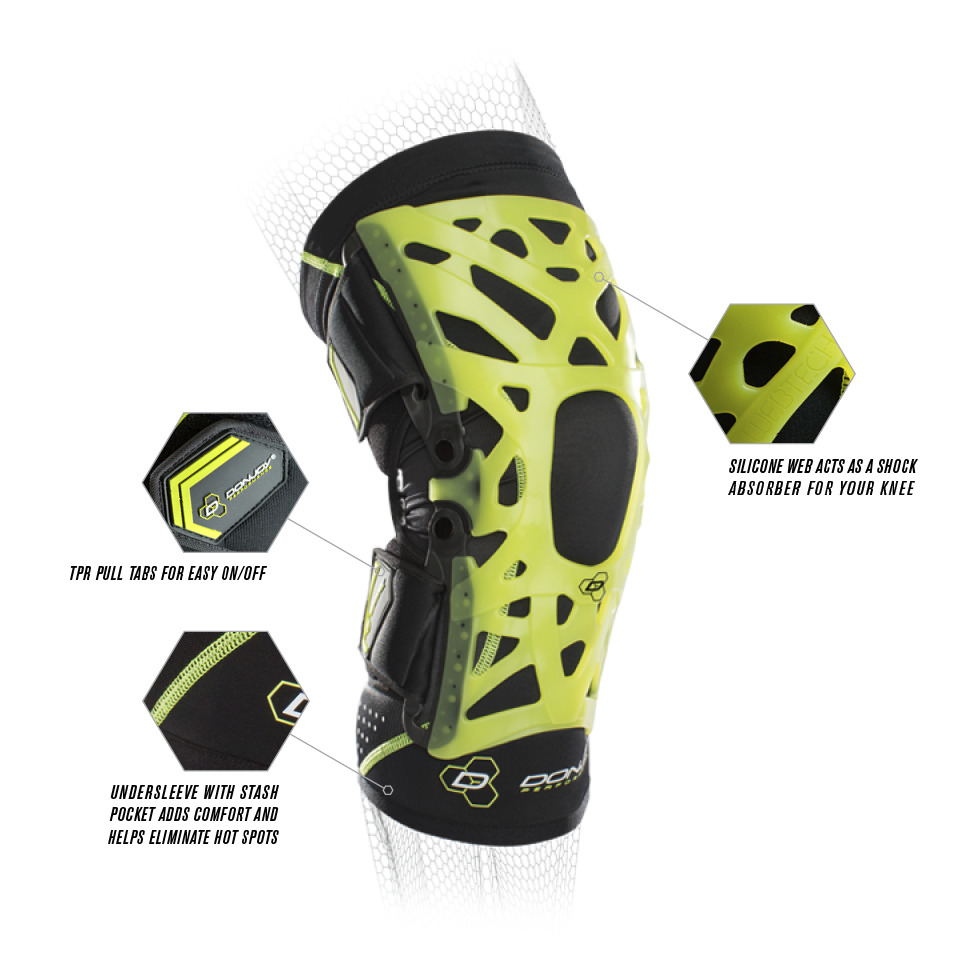 Our DonJoy Performance Webtech Knee Brace features an innovative three part system that is ideal for helping to relieve common forms of knee pain often associated with sports injuries, overuse injuries and degenerative conditions. Patented silicone web technology works to suspend, align and cushion the knee joint structure, an ergonomic compression molded back pad adjusts easily to optimize fit and comfort, and a four way stretch lycra/mesh undersleeve eliminates hot spots and provides an added layer of protection. This combination delivers one of the lightest, most breathable and comfortable knee braces available today, a true shock absorber for your knee.
Features & Benefits
Silicone web technology helps absorb shock and shift loads from the painful area of the knee
Dual-Axis hinges work with the web for improved fit and articulation
Compression molded back pad with mesh for maximum comfort and breathability
Undersleeve with stash pocket and anti-migration technology
TPR pull tabs for easy on/off
Reflectivity for enhanced visibility in low light conditions
Size Chart & Fit Guide
Measurement taken at the center of the knee (directly over patella)
| Circumference | Thigh (Above knee 15cm) | Knee Center | Calf (Below knee 15cm) |
| --- | --- | --- | --- |
| XS | 13.0''-15.5'' | 12"-13" | 10"-12" |
| S | 15.5"-18.5" | 13"-14" | 12"-14" |
| M | 18.5"-21" | 14"-15" | 14"-16" |
| L | 21.0"-23.5" | 15"-17" | 16"-18" |
| XL | 23.5"-26.5" | 17"-19" | 18"-20" |
How to Measure
1. Stand with your legs shoulder-width apart, legs slightly bent and leg muscles contracted.

2. Measure up six inches from the center of your knee with a tape measure, as shown.

3. Measure the circumference of your thigh at the 6-inch mark, as shown.

4. Measure down six inches from the center of your knee with a tape measure, as shown. Then measure the circumference of your calf at the 6-inch mark.
Still have questions? Call our support team at 844-331-7767 to chat with a fit specialist!
How to measure
Product Questions
9/26/2016 2:00 PM

Does the web tech knee brace come just with the web part or with the sleeve as well
The Webtech Knee brace ships with the undersleeve included.

at

9/8/2016 9:51 PM

I have a torn acl and meniscus what the beat brace recommended? Surgery isn't needed jus was given a ace bandage and don't feel comfortable with just that.
A good brace that will protect both the ACL and the meniscus is the Playmaker II with the Forcepoint hinge. https://www.betterbraces.com/donjoy-playmaker-ii-fourcepoint



at

See More Questions

9/1/2016 8:05 PM

Ima a high school football player and I wanna what's the best knee brace to buy for a lcl sprain?
Hello,

For a lateral ligament injury, we recommend a hinged knee brace.

A couple of options for you are the playmaker, Economy hinged knee, or the bionic knee. You have some options in material, and length of product. Do you prefer a sleeve or a wraparound.

Take a look at those 3. If you are tall the playmaker is the best option since its 16".

thanks for contacting Donjoy Performance.

at

8/20/2016 11:57 AM

I'm an elite all star cheerleader coming off a major hyper extension injury which would would work better for me? The Webtech full, or the bionic knee brace?
For maximum support on your hyperextension injury, I would recommend the BIONIC KNEE BRACE. This will provide better support and protection.
https://www.donjoyperformance.com/bionic-knee-brace


at

7/14/2016 8:23 AM

My daughter is 15 and plays basketball at very competitive level. Unfortunately, during her growth period she experiences pain when her kneecap slips, particularly during a "jump-stop" when laying the ball up in action. I'd like to get a brace that not only obsorbs the knee contact, but helps support this particular issue. Do you have any braces that address this? Thanks.
Yes the Webtech knee brace would be great for you daughter while playing basketball competitively. The patented silicone web technology works to suspend, align and cushion the knee joint structure and an ergonomic compression molded back pad adjusts easily.


at

7/6/2016 3:46 PM

What is the difference between this product, the Donjoy Reaction Web Knee Brace ( https://www.betterbraces.com/donjoy-reaction-knee-brace ), and the Donjoy OA Reaction Web Knee Brace ( https://www.betterbraces.com/donjoy-oa-reaction-web-knee-brace )?
The DonJoy OA Reaction is designed to help relieve the pain associated with Osteoarthritis. It provides comfortable offloading of the specific OA compartment of the knee with a nonslip cup effect; the hexagon design allows air pockets to gently support the knee.
The DonJoy Reaction Web is designed to support patella instabilities as well as absorbs the shock and disperse the energy to reduce anterior knee pain, as well as provides mild relief for osteoarthritis.

at

7/3/2016 8:11 PM

I just found out I have a partially torn patella tendon and play competitive softball. I am looking for a knee brace I can wear while playing before and after my surgery. Also need one that is comfortable to keep on for a long tournament or when it's bothering me. Is this the right brace for me?
The Webtech Knee brace would offer great support for your patella, and is lightweight for extended use.

at

6/3/2016 4:56 AM

How tight do you recommend making the brace when you put it on?

The Webtech Knee brace should not be tight to cause any numbness or tingling. The brace should be snug and comfortable.

at

5/14/2016 8:53 AM

My 13y/o is a competitive softball player and has Osgood Schlatters she prefers this knee brace over the other one that is reccomended for what she has Will this one be okay for her condition? Also she measures a small knee brace in everthing except the center of her knee; it measures a little over 12" which would be XS. Would the Small still work or would it be to big for her knee?
The Webtech Knee brace is designed to treat anterior knee pain and support the knee cap. This is a great option for her condition. I recommend a Size Small, as the brace has adjustable straps and she will be able to tighten it up at the knee.


at

3/9/2016 11:42 AM

I am 6'4", weigh 195 but have thin legs. The sizing charts for several of your knee braces indicate I need a Small (thigh size), medium (knee size) and small (calf size). So what size should I order, S or M ?
If the braces are wrap around such as the Webtech Knee then you can go with the thigh measruemtnsand order smalls

at

3/1/2016 8:15 AM

Is it possible to get parts for this. We have done through 3 of these braces because of the velcro part only. The velcro does not stick after a while and the brace falls off. Can we get just the velcro part?
I am sorry we do not sell parts for these braces.

at

2/24/2016 7:26 PM

I suffer from patellar tendinitis/jumpers knee. I have started prolotherapy and shockwave therapy. I play softball 9 months out of the year and run 3 miles 5 days a week as well as weight train. In order to keep up with sports/ training, which brace will be more suitable for me: the webtech knee brace or the webtech short knee brace?
The WebTech knee will be the brace that will help with decreasing the force on your knee with all of your activities. The braces design should help reduce the pain in the front of your knee

at

2/21/2016 12:18 AM

Hi. I have a subtle chondral injury of the lateral aspect of the weight bearing medial femoral condyle and pain at the medial and posteromedial joint line due to focul gracilis tendinopothy and local bursitis as the gracilis rubs past the posteromedial joint capsule. I have this in both knees as well as a chronically ruptured bakers cyst and Plica Syndrome in my right knee.

Do you recommend this brace for daily use or something else?
The Webtech Knee brace will help support the knee around the kneecap and decrease anterior knee pain. Another option is the Bionic Knee brace which will provide general knee joint stability and compression
https://www.djoglobal.com/products/donjoy-performance/bionic-knee-brace

at

2/18/2016 3:39 PM

I hyperextended and sprained both my lateral collateral ligaments my knees buckle coming down from rebounds and high intensity jumps , it's highly prone to bend inwards or outwards , will this help me ?
No to prevent the knee going in or out you will want a brace with hinges so the Bionic Knee Brace would be a better choice
https://www.donjoyperformance.com/bionic-knee-brace

at

2/11/2016 6:13 AM

I am a basketball player and i had a surgery for cruciate rupture.After the surgery sometimes when i play my leg over-extends.Will this knee brace privent it and stabillize my knee?I also live in Greece.Do you ship in Greece?
This braces will not prevent hyperextension, you will need a hinged knee brace to do that. We do not ship internationally, but you can use this contact information to find something in your country

Greece
DJO International - EMEA
CUSTOMER SERVICE, EMEA
Brands: Aircast, Chattanooga, Compex, DonJoy, Dr. Comfort, Empi, ETI, ProCare
General Email: info.emea@djoglobal.com
Phone: +33.142.48.350
Location: Belgium

at

2/6/2016 7:57 PM

Im a 17 years old basketball player and i just had an arthroscopyc meniscus repair (remodeling) in my right knee, lateral meniscus, im entering reinforcement and strenghtening therapy in two days, I had trouble at fully bending my knee but it was shock absortion what bothered me the most, so that's why my doctor recommended operation. Would this be the best choice or is the bionic brace or another brace better for an operated meniscus? Thanks
The Webtech Knee brace will help your knee paiin by absorbing that shock that is put on the front of the knee and dispearsing the shock away from the anterior structures and decreasing pain around the kneecap.

at

1/31/2016 11:48 AM

Can this brace be worn in water sports (fresh & salt water) or will prolonged submersion cause damage to the hinges?
You can wear it in the water just rinse after wearing it in the ocean and let it air dry

at

1/27/2016 6:26 PM

I am flat footed and have chondromalacia with crepitus and pain around the knee cap and anterior knee. What would be the best product ?
The Webtech Knee brace would be the best brace for you. The braces web design will absorb force on your knee and dispearse it away from the front of the knee decreasing pain in that area.

at

1/26/2016 3:44 PM

My 17 year old has had ACL replacement with a patella graft and medial meniscus repair. ACL is stable but meniscus is 7 month post op and experiencing pain/tenderness would this brace help.
Yes this brace will decrease anterior knee pain and provide some support for the the knee after meniscus surgery

at

1/23/2016 12:07 PM

Hi,

I'm a competitive ice hockey player. Due to a muck up on my thigh and ankle, highly likely i'll need a brace to wear during games to help with support as currently there is pain anteriorly and medially to the knee (getting it fixed with rehab and conditioning).

From reading the other questions, the performace web is silicon and reaction web is elastomeric, but honestly, i still dont understand the difference.

1. Could you provide more explanation on the difference in materials and the effects of it if i were to choose either one for wearing it during training and games under the shin pads?

2. Ultimately, which one would be better?

Thank you so much for your time.
Both braces will offer the same amount of support to your knee. The Silicone will be a little more forgiving with movment since that material is a little more flexible. The Webtech also has full sizes instead of blended sizes.

at

1/21/2016 8:58 AM

I had a severed quadriceps tendon that the kneecap which required surgical reattachment. 8 weeks out they have fitted me with an X – Act ROMK knee brace. Down the road when I return to sports which knee brace would you suggest to help protect my quadriceps tendon?
The Webtech knee brace will provide support around the kneecap and the quad tendon attachement site.

at

1/18/2016 3:23 AM

I am an age group triathlete (meaning I'm not a pro) with moderate osteoarthritis in the patella (kneecap) and minimal osteoarthritis in both meniscus (anterior and medial). I am looking for a knee brace to run and cycle in.
2 Questions:
1. How does this differ from the DonJoy Reaction knee brace? (it looks the same).
2. Which of the two braces would be suitable?

I had knee surgery when I was 15 for a football injury and hence the issues I have with my knee now that I'm in my mid-50s.

Eagerly hoping to get back to my sport with DonJoy's help.
Best regards.
The Webtech and the Don Joy Reaction Web are the same brace and do the same things but there a couple of differences. The Webtech material is silicone instead of the Elastomeric material that the Reaction is made of. Silicone gives it a bit more flexibility. The Webtech comes in full sizes and the Reaction Web is is blended sizes. These are the only differences between the two

at

1/16/2016 12:43 AM

I have a partial tear (horizontal) of my lateral meniscus in my left knee. I experience pain on the outer side of my knee and experience pain while folding my knee completely. There is a locking on the upper part of my knee while folding. I have been recommended surgery but want to try outo the braces before I decide on surgery. I play shuttle badminton regularly. I would like to know which one brace would help me in playing badminton freely without pain and further damage to the meniscus.
I would suggest a hinged knee brace such as the Bionic Knee Brace. https://www.donjoyperformance.com/bionic-knee-brace
The brace will offer general knee support and restrict twisting whioch may further injure the meiscus

at

1/12/2016 4:41 PM

Would I be able to wear this and play basketball? Or is there another product for that?
Yes you can wear this and play basketball

at

1/9/2016 9:22 AM

My thigh is 19" knee is 14" and calf 14", what size brace would work best
The medium

at

1/8/2016 5:31 PM

I have developed pain above my knee cap where the quadriceps tendon meets the knee cap. I see that the recommended brace is the short webtech knee brace. Would the full length webtech brace work just as well? How is the sustainability of the brace remaining in place during running, ruck marching, basketball?
The Full Length Webtech brace is very appropriate for the pain that you are experiencing. The brace should stay in place during all of your activites

at

1/4/2016 8:22 AM

My thigh is 21" knee is 16" and calf 16", what size brace would work best?
The large would be the best fit

at

12/28/2015 3:54 AM

I have a miniscus tear in my right knee. What brace would you recommend?

The Bionic Knee brace will provide general knee support and should be a good brace to help prevent twisting of the knee which could cause pain after a tear of the meniscus. https://www.donjoyperformance.com/bionic-knee-brace

at

11/28/2015 10:53 AM

I am 61 and work contruction so I do a lot of walking and climbing up stairs. My right knee has gotting loose and and have some pot hole in the joint as per DR way to put it. I took my measurements T-18" K16" C15-3/4" what would be a good brace to get? Some time when I turn wrong i have a lot of pain.


David
The Webtech will reduce any anterior knee pain and if you need a little more support then the Bionic Knee brace will provide that. I would go with the medium size

at

11/12/2015 5:13 PM

I am looking to buy the Webtech knee brace and I just did my measurements. My thigh is 21 inches and my calf measures 16 inches. With these numbers, I could fall into a medium category or a large category. Which size is best for me to select? I tend to prefer a snug fit if that matters at all but of course I want whatever will best protect my knee and reduce my tendinitis issues. Thank you
Chris
I would order the large these can run a bit small

at

11/5/2015 6:57 AM

A few years ago i spiral fractured my ankle got surgery and all that other good stuff,i recovered from it very well. A few months down the line i had sevre pain and swelling in that same knee with the ankle injury,ive been dealing with the pain and swelling for some years now,i had an pair of the armor braces from when i was playing football i use them from time to time when i cant handle the pain anymore but truth is there used and abused and simply cant afford another pair. Would the webtech help me with everyday activitys and possibly some heavy workouts and also at work? I do alot of heavy lifting and constantly going up and down stairs and alot of walking. Is the webtech something i should consider? I have not gone to a doctor or had any kind of check up for my knee so i really dont know which way to go with support...i have been between jobs for awhile so i really havent had insurance, pls help
The Webtech Knee brace will help to decrease anterior knee pain and support the kneecap and structures attached to it. If that is the kind of pain you are experiencing, then this brace can help with that. this brace can also be worn during all activities.

at

10/30/2015 8:49 AM

I am looking for a knee brace that will help with patella stability after a dislocation. Would the Webtech knee brace be appropriate.
Christopher
Yes the Webtech Knee Brace would be a good brace to try. the webbing of the front of the brace should stabilize the patella for you.

at

10/17/2015 7:05 AM

My daughter is a 10 year old competetive gymnast with flat feet which is causing malalignment issues with her knee and mild discomfort during some skill (forward tumbling). Looking for a recommendation for a brace.
John
The Webtech kne brace would help with mal-alignment of the patella and decrease anterior knee pain while being a light weight brace.

at

10/9/2015 7:40 PM

Can you send post the full (and complete) list of differences between Webtech and Reaction knee braces?

Note: I use my knee brace 2-3 times per week playing basketball.
The Webtech and Reaction function the same and are both used for anterior knee pain, and patellofemoral dysfunction. The only difference between the two braces is the material of the webing. The Reaction uses a elastomeric material and may be stronger, the Webtech is silicone.

at

9/22/2015 6:11 PM

I have a complex tearing, involving the posterior horn and root, of my medial meniscus, what is the best brace for me while playing tennis?

Melvin
If you have not had the surgery to re-pair the meniscus I would suggest the Bionic Hined Knee brace as it will provide rotational support to the knee. https://www.donjoyperformance.com/bionic-knee-brace If you have had surgery then the Webtech Knee Brace would be a sufficient choice.

at

9/21/2015 9:03 AM

I practice sport soft ball, I had a meniscus operation two months ago, and I'm looking for a knee rehabilitation but to feel safer when you return to play , which of their products among WebTech or bionic would recommend me to buy ? I need it as soon
I would suggest the Bionic hinged knee brace for protection while playing softball. The hinges will preven the twisting motion of the knee.

at

8/30/2015 9:51 AM

Would y'all recommend this knee brace for a American football offensive lineman?
Todd
This brace will not prevent any injruy to the knee. It will supoprt the front of the knee specifically the kneecap and provide pain relief from pain in the frount of the knee. So if that is the purpose that is needed for the linemand then yes. If you are serching for prevention of a more serious knee injury then this is not the brace for that reason

at

8/27/2015 6:53 PM

at

8/26/2015 2:21 PM

I am really interested in the Donyoy OA Reaction Web, but you don't show it on your site. I would like to know if replacement velcro is available. ty
Hello,

Thank you for Contacting Donjoy. Here is the link to the OA Reaction Web Knee Brace.
http://www.betterbraces.com/donjoy-oa-reaction-web-knee-brace

Have a Great Day.


at

8/26/2015 1:46 PM

can I get replacment velcro for the webtech brace?
Hello,

Thank you for Contacting Betterbraces. Replacement parts are not available for the webtech brace. If you are having a quality issue with your brace please contact: 1-800-553-6019.

Have a Great Day.

at

8/21/2015 12:24 PM

How do I determine the proper size if my measurements do not all fit within a particular size description?
Go by your thigh measurments

at

8/20/2015 5:32 PM

What size do you recommend for the Webtech when my calf and thigh measurements are small but the patella measurement is medium
Jeff
Go with the thigh and calf measurments

at

8/14/2015 5:50 PM

I have had a complete ACL repair, and have completely recovered. I wear a CTi brace, but a looking for something a little less bulky, but something that will still offer my knee support, as I still feel moderate instability. Does this brace offer ligament stability or mostly shock absorption?
Megan
The Webtech knee brace doesn't provide support for the ligaments it only provides shock absoption for the anterior knee. YOu will want to go with something that has hinges in order to provide mild to moderate support for the ACL. The Playmaker II might be a better choice. http://www.betterbraces.com/donjoy-playmaker-ii-knee-brace

at

7/16/2015 8:44 PM

I am 14 and had a full meniscus removal six months ago. I participate in many sports and sometimes experience pain in my knee during and after playing. would this help to support my knee during play?

and also, would this help to brace from side to side movement
Yes, the DONJOY PERFORMANCE WEBTECH KNEE BRACE will give you the mild support during your sport activities. There is also the DONJOY PERFORMANCE BIONIC KNEE which gives you the maximum support within the DONJOY PERFORMANCE line for that meniscus and help relieve the pain you are having while playing. If you are involved in contact sports, I would recommend the ARMOR FOURCEPOINT knee brace. That gives you the maximum support while complete knee protection while running, jumping or cutting. Yet it is lightweight and comfortable.

at

7/16/2015 6:48 PM

Im an very avid skier i get around 50 days a season. I had a partial tear of my acl and pcl with a complete tear of mcl that was repaired in the spring of 2014. I skied all winter then in May of 2015 I completely tore my mcl again a few days after getting back from skiing in Oregon which was repairable. Would the Don Joy Performance Web reaction knee brace fit my needs. My knee surgeon says i dont need a brace but dont want another surgery.
Being an avid skier and not wanting another surgery, I would recommend the DONJOY ARMOR FOURCEPOINT KNEE BRACE in a SKI VERSION. That will give you that maximum protection of all the knee ligament instabilities, hyper-extension prevention and help prevent future injuries. It is still lightweight at 20 oz. The WEBTECH KNEE BRACE will give you the minimum support.

at
Reviews
Webtech Knee Brace
Write Your Own Review

Your honest feedback
helps other visitors
in selecting their products
No reviews yet.