Details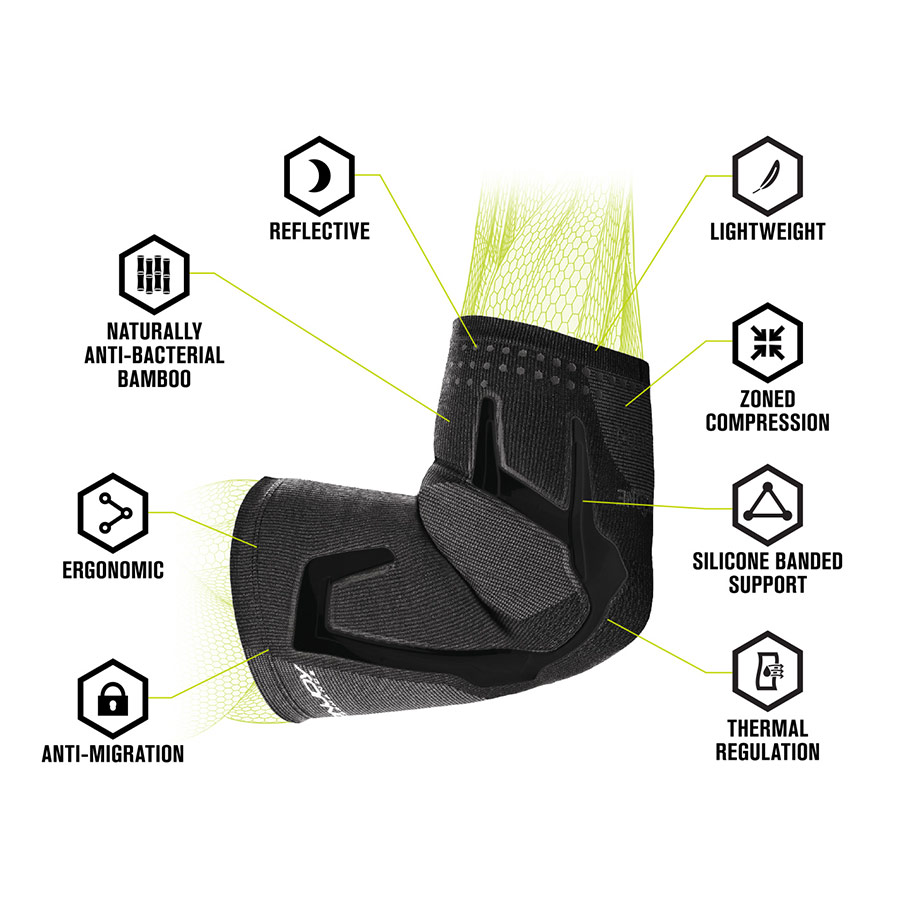 Our DONJOY Performance Trizone Elbow Sleeve is a hybrid design combining the properties of compression and bracing in a single sleeve. The carbonized bamboo circular knit construction allows for targeted, zonal compression with thermal regulating properties. Three distinct compression zones which include: a stability zone with strategically placed injected silicone to provide support for the elbow joint and the benefit of enhanced proprioception, a compression zone which improves circulation and provides mild support to the joint structure and surrounding muscle tissue, and a comfort zone that provides lighter compression for enhanced fit and better range of motion. The Trizone elbow support is a low profile performance product designed to keep you moving through repetitive motion injuries including strains, swelling and inflammation, tendinitis and soreness.
Features & Benefits
Three zones of compression strategically placed around the elbow deliver peak performance
Silicone banding injected directly onto the sleeve targets pain from golf and tennis elbow while stabilizing the joint and supporting the bicep and triceps muscles
All-natural Carbonized Bamboo is thermal regulating and anti-bacterial helping eliminate odors
Anti-migration technology helps to keep the elbow sleeve secure to the bicep and eliminate slip
Reflectivity for enhanced visibility in low light conditions
Product Line: Trizone
Size Chart & Fit Guide
Measurement taken at mid-bicep
SIZING NOTE: Runs big, we encourage you to size down
| Measurement | Small | Medium | Large | X-Large |
| --- | --- | --- | --- | --- |
| Inches | 10 - 11.5 | 11.5 - 13 | 13 - 14.5 | 14.5 - 16 |
| Centimeters | 25 - 29 | 29 - 33 | 33 - 37 | 37 - 41 |
Product Questions
7/12/2016 4:36 PM

My son plays QB and is recovering from a bicep injury. Can this be worn while throwing the ball? Will this help to prevent bicep injuries as well? Thanks!
Yes you can use the TriZone Elbow Support while throwing the ball. Its a compression brace so it does not provide any protection against injury. The DonJoy Performance Bionic Elbow will provide more protection,it has bilateral polycentric hinges with hyper extension stops help to support unstable elbows.
See the link below:
https://www.donjoyperformance.com/bionic-elbow-brace

at

7/8/2016 5:02 PM

Hi. My unflexed bicep is 14 1/2 inches. Should I go with the large or extra large. Thanks
We would suggest the XL based on that measurement.

at

See More Questions

7/4/2016 8:54 AM

What are the washing instructions for this product?
The TRIZONE needs to be hand washed with mild detergent and air-dry.


at

7/3/2016 9:11 AM

I play a lot of racquet sports (paddle and pickleball). I developed both tennis and golf elbow. Would this device alleviate the pain or should I just rest elbow for a few months?
The Trizone Tennis/Golf Support may be a better option to relieve the pain for racquet sports. If you need more compression, try the Trizone Elbow Support.
https://www.betterbraces.com/trizone-tennis-golf-support

at

6/29/2016 7:29 AM

Two questions: 1) Is the size chart for the Tri-zone elbow brace based on a flexed (contracted) bicep, or a relaxed bicep? 2) Can the brace be worn while working out, or should it only be worn pre/post activity. Thanks!
The size chart for the Trizone Elbow Support is based on a relaxed bicep. Yes, it may be worn while working out.


at

5/11/2016 5:06 AM

I have a spur on my olecranon process that is tender when I extend my arm fully (throwing, tennis forehand, golf swing). Would you recommend the trizone elbow support or the bionic elbow brac? I'm looking for something that would impeed my elbow from extending to full 180º. Thanks!
If you want to restrict elbow extension you will want to go with the Bionic elbow and use the straps to limit that motion

at

4/18/2016 6:08 AM

at

2/17/2016 7:04 AM

i have fluid in my elbow causing microfractures in my growth plate would this brace help me with throwing a baseball?
The Trizone will help with the swelling on the joint

at

1/17/2016 9:07 AM

I am a bowler and a golfer. I have been dealing with soreness and some weakness in my elbow. Would the trizone elbow brace be my best option?
The Trizone Elbow support will provide compression and mild support to the elbow. If that is what you are looking for then this support would be appropriate

at

1/4/2016 2:17 PM

I have Golfers and Tennis elbow [Tendinosis] and play competitive baseball. would this be the correct choice for use while throwing/pitching or would a different product be recommended? I am looking for maximum support with minimum impediment during throwing and swinging.
The Trizone Tennis/Golf Support would provide you with the best support while playing baseball. https://www.donjoyperformance.com/trizone-tennis-golf-support?

at

11/23/2015 3:11 PM

bicep tendon trouble
The Trizone Elbow Support will provide compression to the arm and mild support around the muscles of the arm

at

11/18/2015 3:22 PM

I have boxing related injuries and have forearm pain, making it hard for me to do biceps curls. Will the compression in the trizone elbow support alleviate the pain?
Harold
The Elbow support will provide compression and may make your forearm feel better

at

9/24/2015 12:58 PM

at

8/30/2015 6:28 PM

I want to order a trizone sleeve for each arm - cant find such an option on your form???
David
The Trizone elbow Support is Universal to either arm so you will just order two

at

8/30/2015 12:54 AM

Hello,
I have been dealing with medial epicondylitis for a while now. I do a bit of throwing regularly. You have the trizone tennis/golf support that is smaller than this one and focuses only on the medial epicondylitis. How much does this one focus on the ME? The same? less? more? Thank you.
Ben
This Trizone Elbow support offers the same support for both medial and lateral epicondylitis

at

8/20/2015 3:40 PM

Will this alleviate or reduce greatly the pain felt on the outside of the elbow when extending arm straight, where locking out your arms in mandatory, such as overhead squats or even when doing ring dips?
Scott
This product will provide compression and the silicone on the outer portion of the sleeve is positioned to provide support on both sides of the elbow joint as well ad over the bicep and tricep muscles

at

8/15/2015 9:36 AM

HI -

ARE THE ELBOW SLEEVES SOLD AS A PAIR,OR INDIVIDUALLY.

THANKS
Mike
The elbow sleeve is sold individually

at

6/23/2015 11:30 AM

Can this be used while playing golf? It would be on the lead arm. It looks a little restrictive.
Hello,
Yes you can use the TriZone Elbow Support while playing golf. The support is low profile, and has a lighter compression for better fit so it will not restrict your range of motion.

at
Reviews
TriZone Elbow Support
Write Your Own Review

Your honest feedback
helps other visitors
in selecting their products
No reviews yet.