Details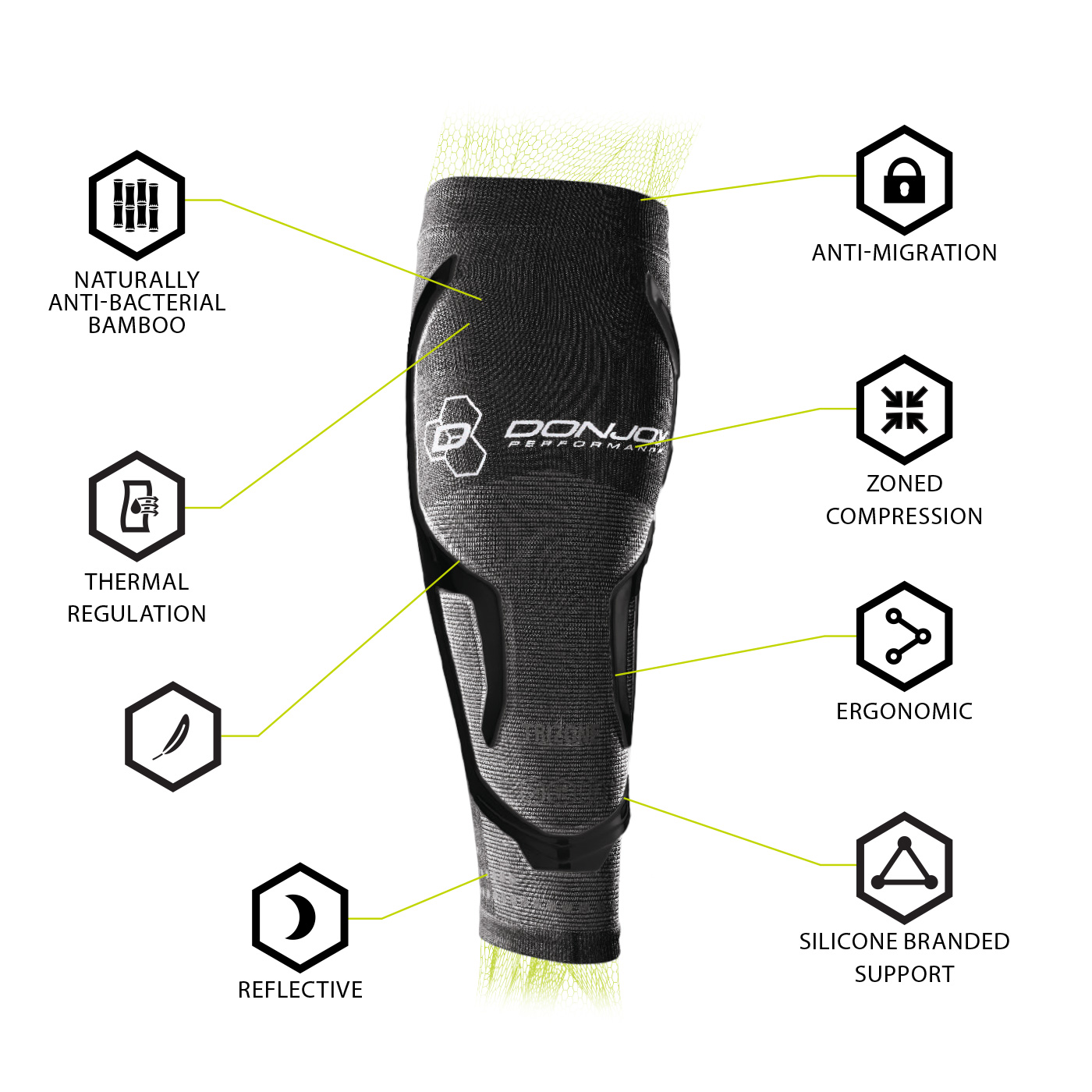 Our DonJoy Performance Trizone Calf Sleeve is a hybrid design combining the properties of compression and bracing in a single sleeve. This product takes the benefits of bracing and applies it to a muscle. The carbonized bamboo circular knit construction allows for targeted, zonal compression with thermal regulating properties. Three distinct compression zones which include: a stability zone with strategically placed injected silicone to provide support for the calf muscle and the benefit of enhanced proprioception, a compression zone which improves circulation and provides mild support to the joint structure and surrounding muscle tissue, and a comfort zone that provides lighter compression for enhanced fit and better range of motion. The Trizone calf support is a low profile performance product perfect for runners looking to add miles and decrease recovery times.
Features & Benefits
Three zones of compression strategically placed around the shin and calf deliver peak performance
Silicone banding injected directly onto the sleeve wraps and supports the calf muscle during activity to significantly delay the onset of fatigue
All-natural Carbonized Bamboo is thermal regulating and anti-bacterial helping eliminate odors
Anti-migration technology helps to eliminate slip
Reflectivity for enhanced visibility in low light conditions
Size Chart & Fit Guide
Measurement taken at the thickest part of calf
| Measurement | Small | Medium | Large | X-Large |
| --- | --- | --- | --- | --- |
| Inches | 11 - 13 | 13 - 15 | 15 - 17 | 17 - 19 |
| Centimeters | 28 - 33 | 33 - 38 | 38 - 43 | 43 - 48 |
Product Questions
5/31/2016 9:49 PM

DonJoy Performance TriZone Calf Sleeve sold as a pair or as a single @ $49.99?
The Trizone Calf is sold as a single.

at

4/12/2016 5:11 PM

My calf is 17.25 inches. I am between the L and XL. Will the large be way too tight/ XL be too loose? How tight should they be?
For the sleeve to be effective with compression it should be somwhat snug but you do not want to cut off circulation. I would say that the sleeves run a little small so the XL may be the best choice

at
Reviews
TriZone Calf Support
Write Your Own Review

Your honest feedback
helps other visitors
in selecting their products
Customer Reviews

5

item(s)
Great customer service, fast delivery and great product!
I tore my calf muscles doing kick boxing and this brace helped me get back out! I called and talked to a sales rep, very helpful.. ordered and received them within two days. Even my kick boxing instructors and chiropractor who is doing soft tissue massage on my calves checked out the brace and were impressed.
Pros: Great customer service (actually get to talk to a person), fast delivery and great product. Very happy my friend (who got her knee brace from them) referred me to them.
Cons: Absolutely NO cons, great company, experience and product all around.
Share Your Usage: Recovering from Injury, Sports, Recently Injured, Daily Use

I have had DonJoy products for years which always seem to outperform other labels I get. Quite simply, they fit snugly to keep pressure on my poor calves and helps with my knees. I use it when I'm walking any type of distance, which is anything more than a city block or two. Down the road I can see myself getting another (spare) pair of these, and would not hesitate in the least of trying any other product in this line.
Pros: Comfortable for long wearing. Stays in place controls and help eleviate my soreness Good for the price
Cons: The only con I have, but that might also be from some swelling & weight gain, is taking off the support. Tends to want to stay where it is: good for walking, etc., not so much for trying to take it off. LOL
Share Your Usage: Recovering from Injury, Daily Use, Preventing Injury, Chronic Instability

Love this brace. Ordering another one.
I could not believe the difference it has made in how I feel when I walk. I wear it everyday for support.
Nice compression and support
While rehabbing my ankle, I needed to keep the accessory muscles in my calf and shin supported. Typically, I would use kinesiotape and a calf sleeve, but the silicone bands in the Trizone sleeve offer the same amount of support. The compression is on the lighter side, but that's not a negative. The sleeve stays in place well through all kinds of activities including running without needing to keep pulling it up.

Overall, the biggest plus is that the silicone banding ends up saving me money due to not needing to place kinesiology tape under the sleeve.
The Trizone brace is wonderful. I wear an acl brace fron donjoy so I knew the Trizone would be just what I needed.
The Trizone brace fit perfect. It is comfortable and gives me a lot of support.