Details
DONJOY PERFORMANCE - IN ACTION
---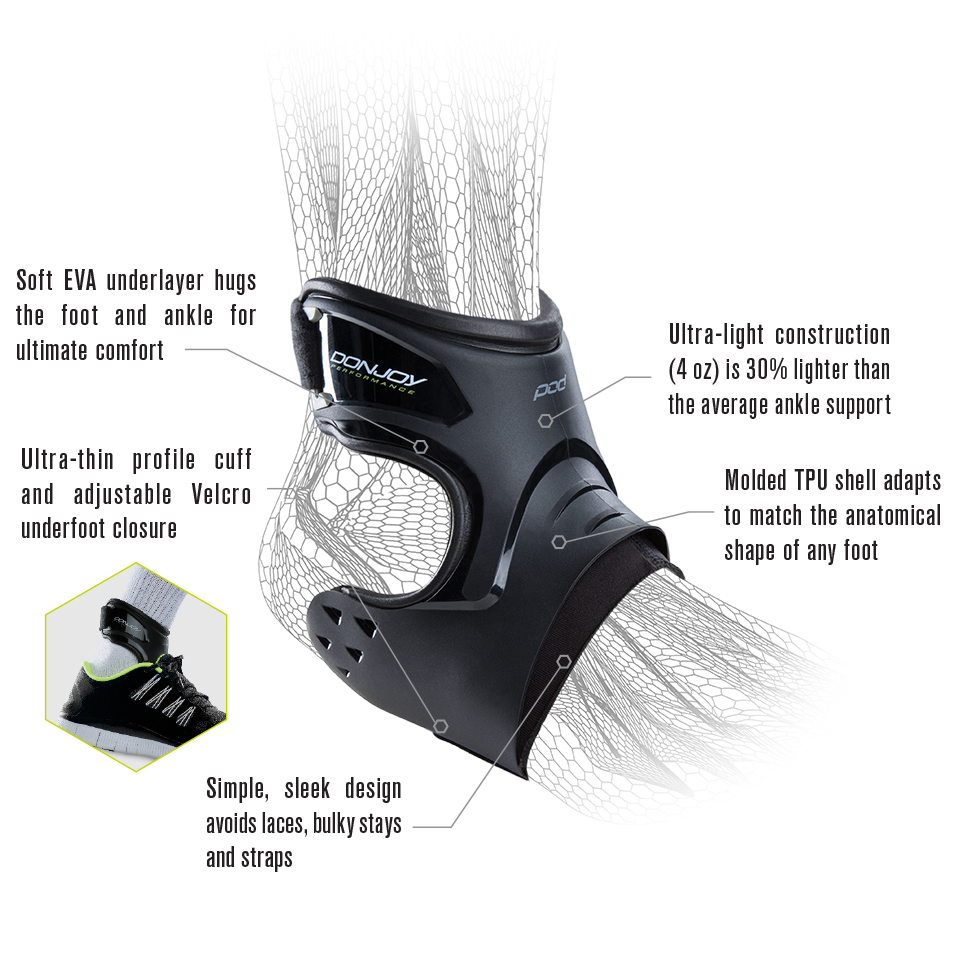 POD® products are engineered for an athlete's natural range of motion while providing exceptional support. "Protection on Demand™" technology proactively protects against injuries and gives athletes the confidence to make aggressive athletic movements without hesitation.
The POD® Ankle Brace's patent-pending technology provides ankle bracing, eliminating the need for ankle tape. The unique design maintains natural motion and freedom of movement during activity, while helping prevent against ankle roll and other common ankle injuries. Combining this with lightweight construction and comfort gives athletes of all levels confidence in prevention and performance.
Features & Benefits
Ultra-light 4 oz. construction is 30% lighter than the average ankle support, allowing for enhanced footwork and speed
Anatomically molded TPU shell molds to the shape of any foot
Super soft EVA lining hugs the foot and ankle for maximum comfort
Low-profile cuff and adjustable underfoot closure integrates seamlessly between the foot and shoe for optimized fit
Simple, sleek design avoids laces, bulky stays and multiple straps while maintaining support
Instructions for use Download PDF
Size Chart & Fit Guide
Product Questions
9/12/2016 8:31 PM

My son wears a size 16 shoe. Would the large work? I am concerned it would be too small. He plays college basketball.
A size 16 shoe size may work with the POD ankle brace, as the Large goes to a size 15, you may try it and our return policy allows up to 60 days for a full refund if it does not fit.

at

9/11/2016 6:48 PM

I play college soccer and in always dealing with sprain ankle injuries witch brace gives me the most protection and fits in my cleat better the pod brace or the bionic ankle brace I normally wear nike magista orba
The POD Ankle is a lightweight, low profile brace that would give you excellent support and will fit well in your soccer cleats.


at

See More Questions

9/8/2016 6:20 PM

My son suffered a high ankle sprain playing soccer. He has recovered from the injury and is back to playing. Will the POD Ankle provide protection against high ankle sprains?
The POD Ankle Brace is one of two braces we carry that is considered to be maximum support against rolling of the ankle joint.

at

9/8/2016 12:13 PM

Would it fit with field hockey shin gaurds?
The fit of the POD with field hockey shin guards is dependent upon the rigidity of the shin guards. If they are pliable at the ankle, the braces should fit underneath. If the shin guards are rigid plastic at the ankle, the brace may not fit comfortably underneath.

at

9/8/2016 8:00 AM

Can you wear with work boots
The POD Ankle Brace is the most low profile brace we carry. It is designed to fit in cleats and athletic shoes. It will most likely fit in work boots as long as they aren't exceptionally tight.

at

9/4/2016 9:27 AM

Will this brace fit inside Under Armour Highlight MC cleats?
Yes, you should not have any issues wearing the POD Ankle with cleats

at

8/30/2016 4:03 PM

i am a mens 7.5 and a womens 8 what size brace would i be?
You would be a size XS

at

8/27/2016 7:52 AM

If I wear a woman's size 11, would I order a medium? Stability and roll support for basketball and softball.
A woman's size 11 is a Medium in the POD Ankle Brace.

at

8/24/2016 5:16 PM

Size 9 shoe, what ankle brace size do you recommend?
For the POD Ankle Brace a men's 9 is medium


at

8/23/2016 9:18 AM

I am a size 9.5 in shoes. Would you recommend a size small or medium POD ankle brace for soccer?
For the POD ankle brace you are a size Medium.



at

8/21/2016 12:10 AM

I'm also an ATC and would like to see the evidence for the POD brace, and additionally would like to know if it is likely to be comfortable and appropriate for a distance runner or if you recommend a different style. I have an ultra trail runner with severely compromised ankle stability who is interested in these. Thanks!
Yes, the POD Ankle would work well for a distance runner. Its low profile, light weight and will fit comfortably into the shoe and not hinder range of motion.

at

8/20/2016 4:38 AM

Will I be able to use this product in my soccer clear, when I play soccer, or will it interfere with my kick?

Yes you can wear the POD ankle brace during soccer and will not interfere with your kick.


at

8/17/2016 8:27 AM

My son wears mid to high top football cleats size 12. Would this have fit into mid or high top shoes? To
Yes, the POD Ankle brace is designed to fit inside high top athletic shoes.

at

8/16/2016 12:29 PM

As an athletic trainer, my coaches have requested use of the Don Joy Performance POD Ankle Braces in substitution of an ankle taping. Do you have any supporting evidence, such as a research study, that you could provide on the stability and efficacy of the ankle brace?
This product was tested, and we're gathering information for you that we can email you once we get it put together for you.

at

8/13/2016 12:02 PM

I wear men's size 12US -

Should I order Medium (9 - 12.5) or Large (12 - 15) POD?

We would recommend you go with a medium, you want the brace to be snug and not too loose on the ankle.

at

8/13/2016 10:33 AM

I wear nike size 13 and have worn 12.5's in other brands, which size, as I am kind of on the edge. I am 6'2" 190 lb and have wide tall feet and thicker ankles. Also, If it was to not fit, what is return policy? Shipping return policy?
Thank You
Based on your shoe size we suggest an XL. The 60-Day Money Back Guarantee allows you time to see if the product is going to work for you or not. If, after trying the product, you are not completely satisfied, you may exchange the item or return the product for a refund of the full purchase price (minus shipping & handling) within 60 days of the purchase. Be advised the return must be received in our warehouse prior to the end of the 60 days for your refund to be processed.

at

8/12/2016 8:17 PM

Does brace help stabilize the achillea tendon?
The POD is not designed for Achilles support. The POD is an ankle stabilizer to prevent ankle sprains and strains.

at

8/11/2016 2:05 AM

I play basketball and I have rolled my ankles plenty of times!! Is weight a factor when wearing them?? Does it provide the same protection as an ASO ankle brace? because im looking for something less bulky
The POD is a mid-level support, so yes its less bulky than an ASO and provides about the same support.

at

8/10/2016 5:28 PM

What size is suitable for a 10.5?
A 10.5 would be a medium for both men's and women's shoe size.

at

8/9/2016 6:45 PM

I played tennis all my life, rolling my ankles many times in college. I have a small tear of the brevis longus tendon on my right ankle. Would this brace prevent me from rolling my ankle outwards? Also I am a 10 1/2 shoe size but I normally use Wide shoes, should I stick with the Medium size?

Thanks!
Yes, the POD Ankle Brace will prevent you rolling the ankle in or out. You will most likely need a medium size. If you have trouble with the length of the strap at the ankle please call us at 800-553-6019. We will be able to advise you how to lengthen it.

at

8/5/2016 10:22 AM

Can this be worn with mid or hi-top athletic shoes, such as baseball or basketball shoes? It looks like it may be uncomfortable.
We suggest the POD be worn with low top athletic shoes for best fit and comfort, however it is possible to wear them with high top shoes as well.

at

8/1/2016 9:29 AM

With normal wear an tear on these. How long will they last an athlete? Will any parts wear out and have to be replaced like velcro or maybe the sleeve? If they do wear out. Do you offer replacement parts?
The DonJoyPerformance Pod Ankle Brace has a 6 month warranty, made with a tough anatomically molded TPU shell. At this time, there are no replacement parts.

at

8/1/2016 7:26 AM

My 15 yr old soccer playing daughter wears size 6.5 men's cleats and size 7.5 women's sneakers. Both sizes fall in the X-Small and Small sizes of your brace. Which size brace should I get for her?
A size Small would be appropriate for her with the DonJoy Performance Pod Ankle Brace

at

7/30/2016 4:41 PM

I'm a 9-9.5 depending on shoe brand should i still with the small or go the extra bit with the medium?
For your shoe size of 9-9.5, we would suggest the medium size.


at

7/30/2016 8:24 AM

I would like to buy these for my son in high school football. He wears Under Armor Highlights which sit pretty high. Can these be used and fit under the Highlights??
Yes, the POD brace is made to be worn with all types of athletic shoes.

at

7/28/2016 8:57 PM

Is betterbraces an authorized dealer? Their discount and free shipping makes want to try the POD!
Yes, Better Braces is an authorized dealer for the Pod Ankle Brace.

at

7/25/2016 8:22 PM

For a mens size 12 would you go with Medium or Large i will be wearing them under basketball shoes
Based on your shoe size we recommend a size Medium Pod Ankle Brace.

at

7/25/2016 12:24 PM

How much support does the POD ankle brace provide compared to your ES Velocity ankle brace with the extra support speed lace at the bottom of the ankle? Does the POD ankle brace provide a lot less support than the velocity brace or only marginally less support?
Our DonJoy Performance Pod Ankle brace is considered to be a maximum support to the ankle, it's not a rigid brace which isn't compared to the braces mentioned, but would provide the same support. The pod will also allow for more mobility than our velocity ankle brace , as the velocity may be a slight bulkier and restrict the mobility to the ankle when used in a shoe.

at

7/24/2016 6:33 PM

Is this product FSA election eligible?
Being a new product, it may be best to check with your FSA to see if this is an eligible item

at

7/24/2016 10:54 AM

How suitable is this brace for post surgery support during athletics after a lateral ankle ligament reconstruction?
The DonJoy Performance Pod Ankle Brace, is not a post-op brace to wear immediately following a surgery, but it is great to wear once you are ready to go back to sports

at

7/23/2016 9:25 AM

Will these help with over-pronation issues?
Yes the DONJOY PERFORMANCE POD ANKLE BRACE will help with controlling pronation.


at

7/22/2016 9:04 PM

Can this be use for running comfortably?. I run trails and marathons.
Yes, the POD ANKLE brace can be used for any type of sports, activity or every day use.


at

7/20/2016 6:01 PM

Will kid/youth sizes be available?
Unfortunately no, we will not be offering youth/kid sizes.

at

7/20/2016 12:48 PM

Are they suitable for individuals with Plantar Fasciitis? Do they help with hill pain and flat feet?
The Aircast Airheel, https://www.betterbraces.com/aircast-airheel-ankle-brace would be a better option for Plantar Fasciitis and heel pain. The DonJoy Performance Pod Ankle Support is designed more to prevent rolls and general stability.

at

7/19/2016 3:01 PM

I play fielderly hockey. Would this brace fit comfortably under a field hockey shin guard?
The DonJoy Performance Pod ankle brace is designed to fit comfortably in an athletic shoe so it should fit under a shin guard as well.

at

7/16/2016 2:54 AM

Can this ankle brace be worn with Curry 2 high top shoes? It concerns me when all your photos are with low tops. Thanks.
Yes, you may wear high top shoes with this brace.

at

7/14/2016 11:44 PM

I usually wear no show or ankle socks only do I have to wear crew or higher socks as shown in your video?
While wearing the POD Ankle Brace you have the option to wear a sock. For comfort sake we'd recommend wearing a sock even if it is ankle length.

at

7/14/2016 11:58 AM

Can these be worn in a soccer game legally due to the hard outer shell?
Yes you can wear the DONJOY PERFORMANCE POD ANKLE BRACE during a game.


at

7/14/2016 8:30 AM

will this fit under high top cleats ?
Yes, the DONJOY PERFORMANCE POD ANKLE BRACE will fit in high top cleats


at

7/13/2016 8:45 AM

When you wear the brace with the shoes, does it rub any areas of the foot? Just trying to minimize blisters?
No, his should rub in any area of the foot. We do recommend you wear a sock under the brace for comfort.

at

7/12/2016 7:43 PM

I am an mma fighter. I am barefoot 90% of the time when I train. Does this still work well if you are barefoot?
Yes, this works well barefoot. It still provides great support that will help prevent you from rolling you ankle .

at

7/11/2016 10:11 AM

Are these waterproof?
Yes you can wear the POD Ankle Brace in the water.

at

7/10/2016 5:47 PM

How does it prevent rolls? It seems to sit low on the outside of the foot.
The POD ankle brace prevents rolls using the "Protection On Demand" technology, which provides compression like taping. The anatomical TPU shell molds to fit your foot shape, allowing the lower profile to fit any shoe.

at
Reviews
POD® ANKLE BRACE
Write Your Own Review

Your honest feedback
helps other visitors
in selecting their products
Customer Reviews

41

item(s)
Wish I had this 15 years ago
Just bought these because I no longer have access to taping for every game. These are low profile and a great solution. Very impressed, and highly recommend
Share Your Usage: Preventing Injury, Chronic Instability, Sports

I recently (4/2017) rolled my ankle while stepping out of my work truck resulting in fifth metatarsal and distal fibular fractures. After progressing from a boot to a splint, I felt like i still needed some kind of support once out of the splint. I purchased this brace and am very happy with it! It fits in my shoe, is comfortable and prevents me from rolling and re-fracturing myself. I am in and out of a truck all day and this gives me the confidence I need to do my job without worrying about my ankle and foot.
Pros: Comfortable, supportive but non restrictive
Cons: Causes a heat rash around my ankle when i wear short socks (which are a required part of my uniform). Bottom Velcro a bit too short
Share Your Usage: Preventing Injury, Recently Injured, Recovering from Injury

Had I only known, I would of been using this brace for all physical activity and saved myself so much pain. I have over pronated for 60 years. Physical activity and age resulted in increased pronation, pain and Posterior Tibialis Tendon Dysfunction. The AirCast I purchased from Better Braces for PTTD helped me heal but does not address my daily activities. This DonJoy Pronation Brace has been exactly what I needed. When I use it in addition to ASIC Over Pronation shoes and occasional Kinesio Taping, I am able to traverse extremely uneven surfaces, lift, run, walk on my toes and forget about my foot. Could not be more grateful.
Pros: Simple to use. Very simple to use. Hard to believe it would work because it is so light and, did I say, simple to use. Easy to clean and fits in all tie down shoes.
Cons: Determining the correct fit was difficult because the instructions do not address what is meant by "medial/lateral" in the sizing which is very important for the brace to function properly. Fortunately it is addressed in the FAQ section.
Share Your Usage: Preventing Injury, Chronic Instability, Daily Use

Awesome Brace! Highly Recommend.
This gave my 15 year old son the support he needed in basketball. He had a bad ankle sprain last season and has rolled his ankle multiple times even when I would tape it and he would wear an ankle brace we had bought from local drug store. As soon as he put this brace on he felt the support he needed. He has been wearing for almost 3 weeks in practices without any problems. I plan to buy another one for a back-up!
Pros: Great support, light weight, easy to put on. No more taping! Def worth the price! Fits great in his basketball shoe too.
Cons: I have found no cons at all except that I should have bought this 6 months ago.
I love this brace! This brace is amazing, I needed something that would allow me to play soccer and after doing some research I decided to order this brace. I was afraid it was going to limit my movement but it didn't. I don't feel the brace on and it allows me to any movement. I recommend this brace 100%.
Share Your Usage: Preventing Injury, Recovering from Injury, Sports

Best ankle support i've ever worn.
Best ankle support I've ever worn. With 11 years of Airborne operations with the U.S Army, I don't have very good ankles and these make me feel like there's nothing wrong with them.
Pros: It fits with low and mid top shoes. Flexible inside the shoes.
Cons: Don't fit well with high top shoes. Wish the bottom Velcro straps were longer, but could be due to being between sizes.
I have a very weak right ankle due to sports injuries and surgery over the years, and it tends to roll on me when I step on an uneven surface. This brace provides excellent support and allows me to hike and walk on non flat surfaces with much more confidence.
Pros: Light weight. Easy to put on. Maintains support over long periods of activity.
Cons: Not necessarily a con but can cause discomfort if worn for long periods sitting or riding in a car. Need to take it off if not needed.
Share Your Usage: Chronic Instability, Occasional Use

I have rolled my ankles numerous times to the point of weakness whenever I do running or hiking activities. I have been using some cheaper options from the local pharmacy but was still rolling my ankles and had no confidence in them. These have changed all of that for me! I wear these and I can again push my limits and put in some serious miles on some serious terrain with confidence in my step! They take some getting used to and wear a bit on my leg and my shoes (sizing is tricky), but worth it to me. When a miss-step and potential roll occurs wearing these, they respond how they should and my ankle isn't doesn't become even sore from it. This is the brace I needed to get back out on the trails again and push myself further.
Pros: Real ankle-rolling support when you need it most. Keeps your ankle from rolling and causing pain to ones already week and injury prone. Allows confidence in each step.
Cons: Sizing - not sure I even have the right size. Large feet, small ankles / calves. Based mine off my shoe size and they are big. I even keep the top loose around my leg and works great still. MUST wear protection (high socks, leggings, calf sleeves) or I get irritation. Causes some wear and tear on your shoes.
Share Your Usage: Preventing Injury, Chronic Instability, Occasional Use, Sports

I've tried so many braces, from the most expensive to the cheapest. They're either too tight or too bulky . I've usually had to get a bigger size in shoes cause they were too bulky. I wear a lot of sandals so this brace hasn't caused me any problems. I have a problem called Drop foot and also my ankle rolls inward. This has helped my walking. And now my foot doesn't slip off the brake pedal when I'm at a stop.
Pros: Great ankle support, Helps with pronation, not too bulky, I can wear sandals
Cons: Wish the heel was closed off to it doesn't catch on close or sandals when I try to take it off
Share Your Usage: Preventing Injury, Chronic Instability, Daily Use, Occasional Use, Sports

So far my therapist says this is the best brace to hold my ankle steady and keep it from rolling - I recommend it to anyone with a weak ankle.
Pros: The sturdiness for its small size
Cons: My left side is paralyzed due to a stroke so I can't use my left hand - I have to tie the strap with only my right hand and have to cross over from right to left so having a longer Velcro strap would help BUT all in all I can manage and I simply love this brace.
Share Your Usage: Preventing Injury, Chronic Instability, Daily Use