Details
The BEST off-the-shelf knee brace in orthopedic history customized for Skiers.
This DonJoy Armor Knee Brace - Ski Version is soon to be discontinued. The
Armor Knee with Fourcepoint Hinge
is a good alternative with updated features to protect the ACL, MCL or Meniscus. Select the Armor Knee Brace with Short Calf and Armor Hinge if you are looking to purchase the brace to be worn with ski boots.
Shop the alternative DonJoy Armor for Skiing here
.
The DonJoy Armor knee brace is the brace to use if you are an extremely active individual or athlete who suffers from an ACL, MCL, or PCL instability or injury. The Armor brace is the strongest and most supportive brace you can get without a prescription.

Since skiing knee injuries are so common, DonJoy created a version of the Armor knee brace just for skiers. The DonJoy Ski Armor is similar to Standard Armor knee brace with a short calf culf, but also includes a Medial Ski Deflector along the medial or inner hinged of the knee brace. This deflector prevents the medial (inner) hinge from "hooking up" with the other brace or knee. This feature is only available with the Ski Armor Knee Brace.

The DonJoy Ski Armor is recommended when two armor braces are worn at the same time. If only one brace is to be worn, the DonJoy Short Armor Knee Brace is recommended. The Ski Armor is 15" in length (short calf) to accommodate ski boots and other high calf boots.
The DonJoy Armor knee brace for skiers is used to treat or prevent the following injuries:
This brace is best for skiers or snowboarders who suffer from...
Moderate to severe ACL or PCL instabilities
ACL/PCL combined instabilities (CI)
Recovery from ACL or PCL reconstructions
MCL or LCL instabilities
Hyperextension
Product Features...and the benefits you'll experience!
Available in ACL, PCL, and CI Versions
You get to choose the brace that is right for your injury, which means your knee will get the proper support where you need it most.
Four-Points of Leverage Dynamic System
This patented technology was developed to reduce the strain on the ACL by distributing the load placed on the ligament via four points. Click here to learn exactly how the Four-Points of Leverage works.
Medial Ski Deflector
Keeps you safe on the slope by preventing the middle hinge from "getting hooked up" with other braces or knee. It could save your life!
Adjustable Extension Resistance
The Hinge enables you to set the flexion angles (25˚, 35˚ (factory setting), 45˚, 55˚, or 65˚) based on your condition or point of recovery. This puts you in control where the degree of tension stops.
Custom Frame and Swiveling Strap Tabs
Get a perfect fit by molding the brace to your knee, as well as enhance the fit and suspension of the brace with the swiveling strap tabs.
Aircraft Aluminum Frame
You get the benefits of a lightweight and low profile knee brace that is also stronger, thicker, and more stable than the other lightweight knee braces on the market.
Anti-migration Supra Condyle Pad
Your knee brace will stay in place no matter how active you are.
Calf Pinch Guard
Provides a smooth transition between boot and calf cuff so you'll never pinch your calf again. This is an add-on accessory that is purchased separately.
Impact Guard
Protects the shin and knee against blunt blows, as well as prevents you from ripping pants or uniforms. This is an add-on accessory that is purchased separately.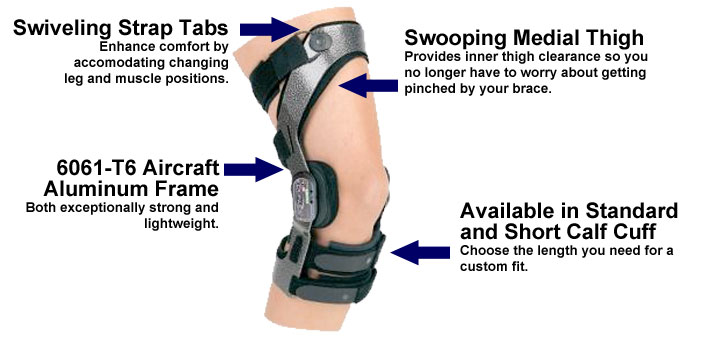 Sizing and Measurements
Click on the Size Chart tab above to learn how to measure your leg to determine what brace size you need.
Instructions for Use...how to put on your DonJoy Armor Knee Brace.
To ensure you are properly applying your brace, click on the Video tab above and watch our Fitting Video.
Shop our complete selection of knee braces or browse additional DonJoy products.
Size Chart & Fit Guide
Take the measurement of your thigh and calf 6" above and below your kneecap using a flexible type tape measure. Use the diameter you measure here to choose your size.
| | | | |
| --- | --- | --- | --- |
| Size | Thigh | Knee Center | Calf |
| XS | 13" - 15.5" (33-39 cm) | 12"-13" (30-33 cm) | 10"-12" (25-30 cm) |
| S | 15.5" - 18 .5" (39-47 cm) | 13"-14" (33-35 cm) | 12"-14" (30-35 cm) |
| M | 18.5" - 21" (47-53 cm) | 14"-15" (35-38 cm) | 14"-16" (35-40 cm) |
| L | 21" - 23.5" (53-60 cm) | 15"-17" (38-43 cm) | 16"-18" (40-45 cm) |
| XL | 23.5" - 26.5" (60-67 cm) | 17"-19" (43-48 cm) | 18"-20" (45-50 cm) |
| XXL | 26.5" - 29.5" (67-75 cm) | 19"-21" (48-53 cm) | 20"-22" (50-55 cm) |
| XXXL | 29.5" - 32" (75-83 cm) | 21"-23" (53-58 cm) | 22"-24" (55-60 cm) |
| | |
| --- | --- |
| | 1.Stand with your legs shoulder-width apart, legs slightly bent and leg muscles contracted. |
| | 2. Measure up six inches from the center of your knee with a tape measure, as shown. |
| | 3. Measure the circumference of your thigh at the 6-inch mark, as shown. |
| | 4. Measure down six inches from the center of your knee with a tape measure, as shown. Then measure the circumference of your calf at the 6-inch mark. |
Product Questions
No questions asked yet
Reviews
DonJoy Armor Knee Brace – Ski Version
Write Your Own Review

Your honest feedback
helps other visitors
in selecting their products
No reviews yet.