Details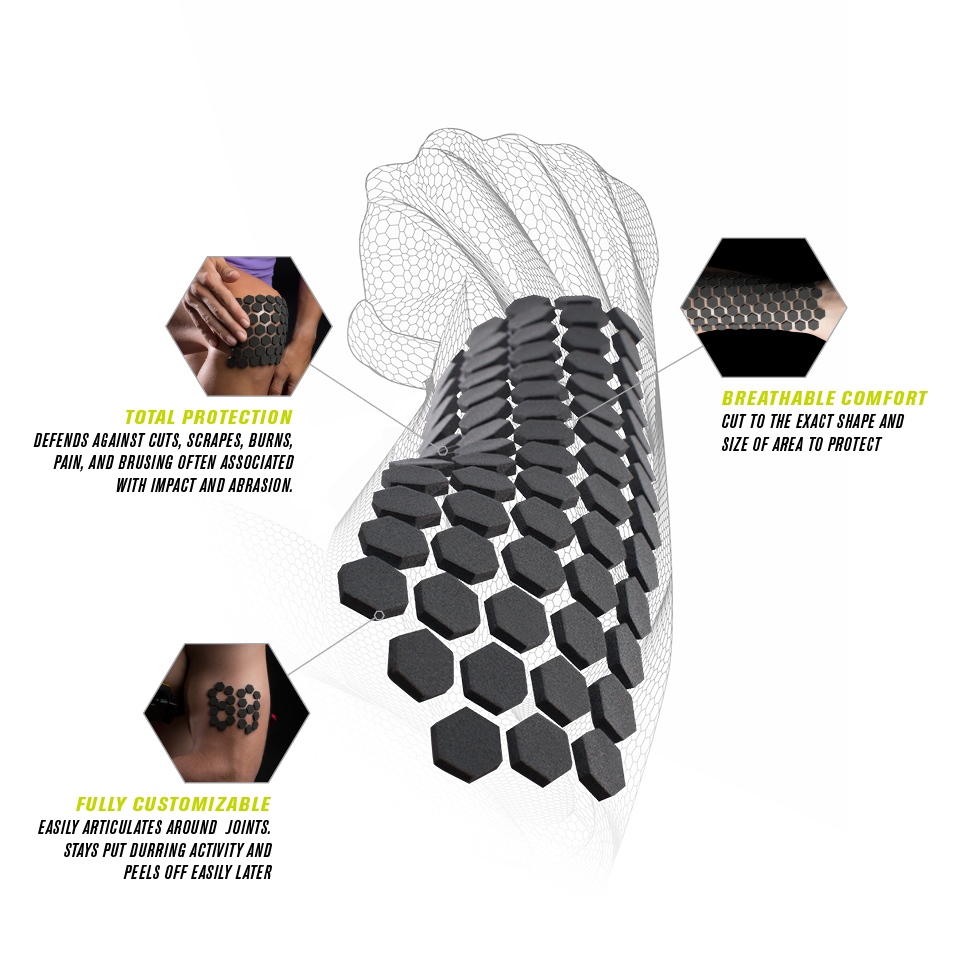 When it comes to protecting your body during sport, you should never sacrifice comfort or performance. Defender Skin is the lightest, most flexible, and most versatile form of protection available to athletes today, no matter what game they play. It's a uniquely engineered, breathable adhesive second skin designed to defend the body against cuts, scrapes, burns, pain and bruising often associated with the impact and abrasion of rigorous sports.
Features & Benefits
Impact Protection- Absorbs and cushions impact and distributes energy horizontally throughout the protective foam pads, reducing effects on the body
Abrasion Defense- Provides a layer of protection for your skin (including rehabbing wounds and healing cuts and scrapes), whether it's against turf, dirt, rock, or your opponent
Comfort- Stays put, breathes like skin, allows your joints to articulate fully for freedom of motion, and is virtually weightless
Customizable- Cuts down to your desired size and shape, peels off the backing and sticks immediately to any vulnerable area of the body. (Clean the area with alcohol and/or shave the area first to keep Defender Skin on for a longer period of time.)
Durable- 4-way stretch adhesive is sweat and water resistant, staying in place during activity and peeling off easily afterward
Innovative Design and Construction- Outperforms traditional pads, wraps and tapes, eliminating their tendency to be rough and bulky, and inhibit movement
Total Body Coverage- Protect knees, elbows, forearms, hands, or any areas subject to abrasion and impact
All-Sport Usage- Team sports, outdoor sports, fitness, action sports
Color - Available in Black only. More colors will be available in the future
Application
For best results, apply to clean, dry skin and 45-minutes prior to activity
Cut Defender Skin with scissors to desired size and shape
Peel and apply directly to skin. Avoid lifting and re-applying
Place pressure on padded areas and corners
Defender Skin is designed for one-time use only
Size Chart & Fit Guide
Multi-use and customizable
Product Questions
6/23/2016 12:45 PM

How forgiving is this product on body hair? I'm considering using this product to protect my knees from turf burn when playing lacrosse because knee sleeves can be uncomfortable or require adjustment during play. However, the skin around my knees is very hairy, and I don't want to have weird hairless patches around my knees if the adhesive rips out my leg hair or I have to shave the area that I'll be applying the product to.
The Defender Skin is recommended for use on clean, dry, shaved skin. If an area is excessively hairy the Defender Skin may not adhere as well as desired.


at

5/7/2016 5:36 PM

Where can this be purchased via retail stores? Hibbetts Sports? Dicks Sporting Goods? Academy?
Dicks Sporting Goods carry the Defender Tape

at

See More Questions

9/22/2015 2:33 PM

Could this product be used to protect the kidney area, specifically for baseball. My son has one kidney and want to protect it. Currently what he uses restricts his mobility. Please let me know.
John
Defender Skin can be worn for mild contact but will not protect an area from high speed contact it is not thick enough. You can try doubling the thickness

at

4/30/2015 9:33 AM

What kind of foam is this made of? Is this product environmentally friendly or bio-degradable? This is a great product, and I believe it will take off. My concern is whether or not our landfills be full of it?
3 mil EVA Foam
(ethylene-vinyl acetate

at

3/14/2015 4:15 PM

What is the pricing and how do I order A larger supply for team sports? I am interested in a 50' X 4" roll
This is our retail product and only available in singe rolls. we do have another similar product for accounts and trainin rooms that can only be purchased though a Don Joy sales rep. To locate your local rep please copy and paste this link:
http://www.djoglobal.com/contact-us/sales-rep-locator
This product Defender Tape is on limited launch so not all sales reps have access to it yet. Please check with your local rep

at

1/7/2015 3:34 PM

Can defender skin be shipped to Canada?
Sebastian
Yes we do ship to Canada

at

1/5/2015 9:31 AM

Although it may be a one-time use product, how long will it stay on in place for its one time use? Can it be left on, in p lace, for more than 24 hours? How long?
Fred
It should stay on for at lease 6 hours, but you can wear it as long as you would like

at

11/13/2014 2:28 PM

is Defender skin reusable or "one time" use?
JT
Defender is a one-time use product that comes in a roll 3'

at
Reviews
Defender Skin
Write Your Own Review

Your honest feedback
helps other visitors
in selecting their products
Customer Reviews

4

item(s)
I play football and needed a product to protect against turf burn. This product did a great job as well as absorbed hits from other players
Pros: Feels like nothing Easy to apply Good protection
Cons: Falls off easy Pretty expensive if your going to use it every game
Perfect for Lacrosse Goalies
Goalies wear very limited pads - basically to cover the heart, leaving collarbone exposed. This is perfect for that extra protection from shots that are coming toward you at 80-100 mph.
Pros: Easy to apply, gives a bit of extra protection.
Cons: Gets expensive when the rest of your team sees what you have and takes your supply. Would love to see this product go on sale as you constantly need to replace it every time you use it in practice and in games.
Works well in active joint spots if you clean then cover
Returned to volleyball post acl recovery with the don joy active brace, however no knee pad would fit under it. So tried the defender active skin. After a few attempts, figured out the best way to make it stay in position on the knee. First always use a germ or alcohol wipe first and let dry, then apply and cover with a compression sleeve to make a knee pad. Don joy please make a knee pad that will work with your active brace for post knee surgery.
I used the protective tape twice. The first time I placed them on my upper chest (just around the neckline), I was comfortable doing fast reps of power cleans. I believe the pads prevented some bruises that I normally get when doing similar CrossFit movements. I was sweating and the pads stayed on really well. Second time I used the pads on my knees and forearms during flag football. They were intimidating; however the pads didn't stay on very well when I made contact with the ground. I would suggest these are great for workouts but not with hard contact sports. Maybe offer different kinds of adhesive.
You may also like
Regular Price: $69.99

Special Price $38.49

Regular Price: $79.99

Special Price $43.99