Details
DONJOY PERFORMANCE - IN ACTION
---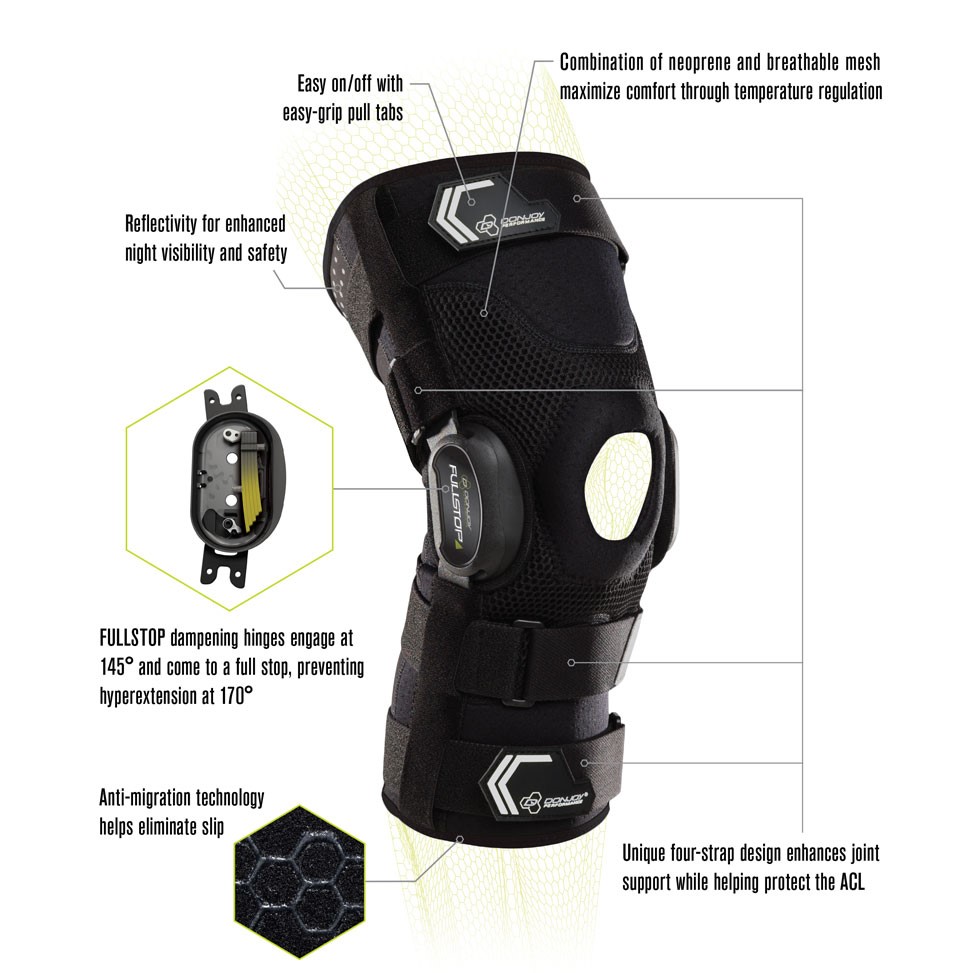 As part of our most stable line of sport performance bracing products, the BIONIC FULLSTOP provides the ultimate in Anterior Cruciate Ligament (ACL) protection during recovery from injury, as well as prevention of future injury. FULLSTOP dampening hinges prevent hyperextension and help improve joint mechanics in both surgical and non-surgical knees. Through the dampening cycle of the hinge, muscle memory trains your body to keep both the braced and un-braced knees out of the "at risk" zone.
Features & Benefits
Hinge Technology and Four-point Leverage System to prevent hyperextension
Anti-migration technology to prevent sleeve movement
Reflectivity for enhanced visibility in low-light conditions
Compression and thermal heat regulation
Adjustable straps for a more secure, personal fit
Size Chart & Fit Guide
Measurement taken at the center of the knee (directly over patella)
| Circumference | Thigh (Above knee 15cm) | Knee Center | Calf (Below knee 15cm) |
| --- | --- | --- | --- |
| XS | 13.0''-15.5'' | 12"-13" | 10"-12" |
| S | 15.5"-18.5" | 13"-14" | 12"-14" |
| M | 18.5"-21" | 14"-15" | 14"-16" |
| L | 21.0"-23.5" | 15"-17" | 16"-18" |
| XL | 23.5"-26.5" | 17"-19" | 18"-20" |
How to Measure
1. Stand with your legs shoulder-width apart, legs slightly bent and leg muscles contracted.

2. Measure up six inches from the center of your knee with a tape measure, as shown.

3. Measure the circumference of your thigh at the 6-inch mark, as shown.

4. Measure down six inches from the center of your knee with a tape measure, as shown. Then measure the circumference of your calf at the 6-inch mark.
Still have questions? Call our support team at 844-331-7767 to chat with a fit specialist!
How to measure
Product Questions
12/4/2016 2:35 PM

Is the brace washable?
Yes, you can handwash with mild detergent and air-dry.

at

10/10/2016 8:54 AM

does the donjoy hinged knee brace contain any latex like in the elastic
The Fullstop knee brace does not contain latex.

at

See More Questions

9/14/2016 5:24 PM

I'm going to ask my workcomp doc to get this for me tomorrow. Do you have any advice for me if they will not order it for me?

Recovering from a 3rd acl surgery and 1st all surgery.
Thank you for contacting Don Joy Performance. As our performance line generally can not be covered by insurance, I would recommend looking at the Playmaker II with a Fourcepoint hinge. This is through our sister company at betterbraces.com, and is very comparable to the FullStop.
https://www.betterbraces.com/donjoy-playmaker-ii-fourcepoint

at

9/6/2016 6:54 PM

Had a full reconstruction 20 years ago. Leg is in great shape. Back in the 90's I had a very expensive DonJoy that needed to be custom fit to my leg for skiing. Recently got back into skiing and would love to buy something more over the counter without making a big deal of the purchase. Will the Bionic do the job?
Yes, this will definitely help if you're looking for something over the counter. Designed with dampening hinges to prevent hyperextension and help improve joint mechanics in both surgical and non-surgical knees. Through the dampening cycle of the hinge, muscle memory trains your body to keep both the braced and un-braced knees out of the "at risk" zone.

at

9/4/2016 7:15 PM

Is there a way to adjust the brace so that my knee can be fully extended to 180 degrees. Thank you
Unfortunately no, there is no way to make adjustments in the hinge.

at

8/19/2016 9:04 AM

I had ACL reconstruction and meniscus repair surgery in October 2015. I was cleared for full activity this July 2016. Will this brace provide the support I need for running and playing rugby? I got the full force prior to surgery but can't use that for play because of the aluminum parts. I just need the protection of hyperextension for play and making sure this will provide that. My knee is at full strength compared to my right leg.
Yes, The Bionic Fullstop Knee Brace uses hinge technology and a four-point leverage system to keep the knee out of the "At Risk" position.

at

7/7/2016 8:50 PM

I'm a high school defensive lineman and have ITBS on the right knee, would the bionic full stop brace be good for me
Yes, this brace should help. The hinge technology and four point leverage system helps to keep your knee out of the "at risk" position. It will help prevent hyperextension and can be worn during football.

at

7/4/2016 11:15 AM

What this brace is made off? Please, thanks
The BIONIC FULLSTOP KNEE BRACE is made of a perforated neoprene and mesh.


at

7/2/2016 3:56 PM

Can it be used in water like for swimming?
Yes, you can swim with the Bionic FullStop. Just make sure you rinse with clean fresh water after being used for swimming. Lay flat to air dry.

at

6/29/2016 3:52 PM

Hi, My left knee had an accident from basketball. ACL was rupture and reconstructed by surgery but my meniscus damaged too much then doctor need to remove it.
I want to use for daily life and get back to play sport again ex. basketball, football, tennis, skiing.
Which product is best for this case. Is this FullStop good for me?
The Bionic Fullstop Knee Brace would be a good choice for you. It provides you with stability and protection for the meniscus. The hinges prevent hyperextension, and helps to train your body to keep the knee out of the "at risk" position.

at

4/25/2016 12:55 PM

Could insurance help pay for part of this brace?
We do not accept insurance only credit card

at

4/19/2016 7:33 AM

I had ACL reconstruction last June. I have an older version of the playmaker brace but it slips off all the time. I just started playing basketball and football again, will this brace be better than the one I already have?
The DonJoy Performance Full Stop Brace is an ACL brace but also provides support to the MCL/LCL. The Fullstop hinge is designed to keep the knee out of the "At Risk" position and significantly reduce the risk of ACL injury. The Fullstop knee brace will provide more specific ACL support than the current brace you currently own. The Fullstop knee brace has silicone banding that helps eliminate slip.

at

3/29/2016 10:32 AM

I had a pretty bad lateral meniscus tear and a moderate ACL sprain. I had arthroscopic knee surgery to repair the torn meniscus. I play lacrosse and do weight training and I am unsure of what brace I should get.
We recommend the Bionic FullStop Brace for your ACL injury. The hinge on this brace will reduce the amount of strain on your ACL and significantly reduce the risk on injury by keeping your knee out of the "at risk" position.

at

3/29/2016 10:30 AM

I have Arthroscopic Surgery coming up from my Complex lateral meniscus, which I am trying to put of, in the mean time what is the best brace for me to workout in? What do the Bionic Full Stop Knee Brace do the trick?
For a meniscus tear the Bionic Knee Brace would be suffiiceint support while working out.
http://www.donjoyperformance.com/bionic-knee-brace

at

3/23/2016 5:31 AM

I have been diagnosed with arthritis in my right knee, which results in pain more prevalent after activity. I ride and excise bike 5-6 times per week and engage in moderate weight training at least 4 times per week. What is the recommended bract to provide stability and control pain.
Perhaps the Webtech knee brace will be the suitable brace for you. The brace will offer mild support and will help to decrease pain in the front of the knee during activities. The brace is indicated for mild artritis and patellofemoral pain which is pain around the kneecap.
http://www.donjoyperformance.com/webtech-knee-brace

at

3/10/2016 9:31 AM

Which better after acl recons in terms of daily activitie and getting ready to play basketball (highly contact sports) the defiance or full force thx
Both are equally supportive although the Defiance is a better fit since is it custom. The Defiance is the premier brace

at

3/3/2016 11:16 PM

Where does this brace stan in relationship with the fullforce?? I have the fullforce, and it was way more expensive than this, which is better? which is more comfortable and allows better performance??

Thank you!
The Full Force is reccommended after a complete rupture of the ACL and reconstruction surgery. The brace will provide more support than the FullStop brace especially with activities that require cutting and starting and stopping. The FullStop brace would be used of there was a partial tear of the ACL, years after reconstructive surgery and with daily activites

at

3/1/2016 3:34 PM

with the Bionic full stop is the brace right or left specific or will it fit on either knee

The Bionic Fullstop knee brace is universal and can be worn on either the right or left knee.

at
Reviews
Bionic FullStop Knee Brace
Write Your Own Review

Your honest feedback
helps other visitors
in selecting their products
Customer Reviews

9

item(s)
I have a partial tear in my patella tendon and work on my feet for long hours, this brace is amazing, comfortable and although it's expensive it's worth the money.
Share Your Usage: Recently Injured

I used it to play soccer and I like it, I feel that my knee is more stable with it.
Cons: little bit tight on my knee
Share Your Usage: Occasional Use, Sports

Great quality and support
Having suffered from a torn and repaired ACL many years ago - I still experience pain and vulnerability. I also have no cartiledge in both knees and have bad arthritis. In search of knee support beyond a sleeve but not as expensive as a custom brace - my search ultimately landed on the fullstop. Better Brace site offered an even lower discount then from the Donjoy site. The brace fits well, is easy to put on, and the best part is it doesn't slide down like many knee braces will. (Assure you measure and order the right size).
Pros: Easy to put on, stylish, durable, easy to clean, and you feel the support.
Cons: I would like to see better direction on how to put it on. When I first got it, I looked up a video but wasn't fully sure. I experienced one occurance where my knee did over extend which is what the brace is suppose to prevent, but I put the brace on sitting on the ground with my knee straight opposed to having the knee bent while putting it on. I am thinking this is the reason why.
Share Your Usage: Preventing Injury, Recovering from Injury, Daily Use, Sports

Great product works amazingly great support for my sons knee.
Pros: Strong product well designed
Cons: None
Share Your Usage: Recovering from Injury

I've had pain in my knee for the last 4 years and couldn't find anything to help it. I got this brace three days ago and sense I've been wearing it I've been able to go the whole day without worrying about my knee becoming inflamed if your looking for a brace this is the one you want!
Completely tore my left ACL in Dec 2016 at an MMA striking seminar. Using regular braces my knee buckled twice doing high kicks after the tear. Discovered the ACL tear after an MRI late Jan 2017. Bough this brace Feb 3rd. This brace enabled me to get back to training and training hard! Foot jabs, rear leg kicks, double rear leg kicks... Strong and powerful with no problem. Please remember to tighten the straps. Forgot once and the knee slipped just enough to remind me. BTW I train 4 days a week (striking only since discovering the ACL tear.) Getting my ACL repaired with my hamstring April 18th. Thank you for an amazing brace. Worth every penny!
Pros: I hope this helps others looking to postpone ACL surgery for a bit.
Cons: I think the velcro should go all the way around above the knee to get the straps just a little tighter, but it is indeed tight enough.
i just got this brace a few weeks ago and used it twice but the left hinge digs in to the side of my need when i bend is really uncomfortable.. why is that happening?
Frank,

Sorry to hear you are having a fit issue with this high end brace.

We highly recommend that you call our DonJoy Performance customer service team and speak with one of our fit specialist. The phone number is 844-331-7767

They would be happy to help you out.

Regards,

DonJoy Performance Customer Service Team
19 Apr, 2017
I tore my hyperextend my knee and tore my meniscus in the Marine Corp. about a month ago I reinjured the same knee. I've had the fullstop bionic knee brace for about 3 weeks now and it is the best knee brace I've ever owned. its the first time in 6 years in can work or play a sport and my knee does not feel completely useless afterwards.
Pros: price point for performance, comfortable,
Share Your Usage: Recently Injured, Chronic Instability, Daily Use, Sports

I would give it really 3 and half stars. For the price it is not holding up.
Like the brace but after 3 weeks the straps on the side are starting to rip. Not happy with that.
Hi Jodi, thanks for your feedback. Sorry to hear about the straps. Please contact customer support to discuss warranty options. Thank you. -Customer Service
22 Feb, 2017
You may also like