Details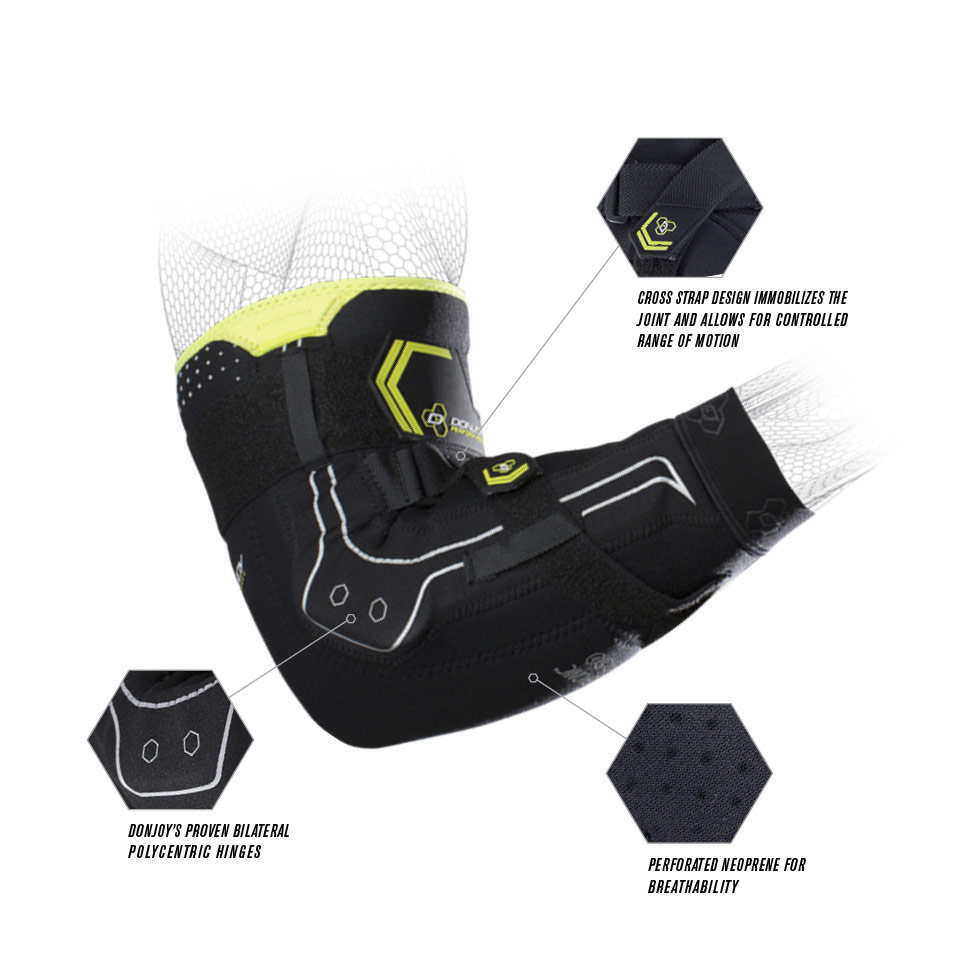 Our DonJoy Performance Bionic Elbow Brace features industry leading support and protection from lateral forces that occur in everyday sport and activity. Stretch webbing closure system ensures the proper fit for comfort and controllable compression. The cross strap design allows the user to set the max angle of extension to keep an injured or healing elbow protected. Born from the number one brand in sports medicine worldwide, our bilateral polycentric hinges with hyperextension stops in this elbow brace are sure to keep unstable, ligament damaged, sprained elbows from getting in the way of performance.
Features & Benefits
Bilateral polycentric hinges with hyper extension stops help to support unstable elbows
Innovative cross strap design immobilizes the elbow joint for protection
Ergonomic construction improves fit and function
Perforated neoprene for breathability
Anti-migration technology helps to eliminate slip
Reflectivity for enhanced visibility in low light conditions
Product Line: Bionic
Size Chart & Fit Guide
Measurement taken at mid-bicep
* Runs small, we recommend sizing up
| Measurement | Small | Medium | Large | X-Large |
| --- | --- | --- | --- | --- |
| Inches | 10 - 11.5 | 11.5 - 13 | 13 - 14.5 | 14.5 - 16 |
| Centimeters | 25 - 29 | 29 - 33 | 33 - 37 | 37 - 41 |
Product Questions
11/3/2016 11:35 AM

When measuring the bicep should it be while flexing or not?
Measurement is taken at mid-bicep with the elbow in a straight-relaxed position.

at

8/12/2016 8:58 PM

I broke the ulna in my left arm and dislocated my elbow 4 years ago. On 6/17/16 (2 mths ago) I feel again this time breaking the radius in the same left arm at the elbow causing a compound fracture that has since been repaired. I've been in a post-op brace and am looking for something more comfortable to start rehab in. Is this a good option? What are the washing instructions? Thanks
The Bionic Elbow brace, https://www.betterbraces.com/bionic-elbow-brace , would be a great brace to begin your rehab. The cross straps that are implemented onto the brace are designed to immobilized the joint and protect from any further injury. It also has bilateral hinges to prevent any hyper extension. It is best to hand wash, in lukewarm water, with a mild detergent.

at

See More Questions

7/27/2016 5:57 PM

My daughter is a cheerleader and is double jointed in both elbows, what is the best brace for her so she does not hyperextended when she does her tumbling?
Yes, the Bionic Elbow brace will help prevent hyperextension.




at

7/8/2016 1:05 PM

My daughter measures at 9.5 inches. Will the 1/2 inch make a difference causing the brace to not fit?
Yes, its possible the brace will be too loose and not provide the support needed.

at

6/30/2016 8:28 AM

I had a complete distal bicep rupture to my right arm less than a month ago. Had a endo-button used to reattach the bicep. I had it measured during rehab and its down to 17". My left arm is at 191/2".

Do you have any larger sizes?
Will I eventually be able to not use it during weight lifting etc?
The Bionic Elbow only comes in sizes s- xl. It is designed with maximum support for injured and recovering elbows, and it had hyperextension stops to prevent hyperextension. The cross strap design allows you to set the max angle of extension to your joint protected.

at

5/11/2016 1:21 PM

Is the mid-bicep measurement to be taken with the elbow at full elbow flexion, 90 degrees of elbow flexion or at full elbow extension?


The measurment of the bicep should be taken while the elbow is in a realaxed position

at

5/4/2016 7:51 PM

I have a chronic shoulder injury that does not allow for external rotation. When I do activities where my arm is extended away from my body (such as riding a bike), this puts a lot of lateral strain on my elbow joint. Would this brace be light weight enough to help with the lateral strain without inhibiting motion or causing extra fatigue in my already weak shoulder?
Yes the brace has hinges on both side of the elbow to provide that support.

at

5/4/2016 7:19 AM

Last September I had a complete rupture of my UCL in my left arm. I did not have surgery and took physical therapy instead and let it heal on my own as the surgeon advised me it wouldn't be smart to get the Tommy John surgery due to it not being my dominant arm. I need a good brace for the gym & lifting weights. I have been using a basic brace but need more support ... Will this brace be he best option? Thanks
Yes the Bionic Elbow Brace is a hinged elbow support that will provide support for that injury

at

4/10/2016 8:42 AM

I am a softball catcher suffering from Ulnar Neuritis in my right elbow (my throwing arm) my nerve often dislocates and slides around. I was wondering if this brace would help prevent my nerve from sliding and would allow me to get back out on the field. Thanks!
I would suggest the Trizone Elbow support for you as you will not be able to throw the ball with the Bionic Elbow
https://www.djoglobal.com/products/donjoy-performance/trizone-elbow-support

at

4/10/2016 3:18 AM

I fractured my left radial head in my elbow in 3 peices. Had surgery and 4 screws were inserted to repair it. Majior damage also to the cartliage , tennons and soft tissue affecting forarm and wrist.
It has been 5 weeks post surgery. I am not able to straighten out the arm all the way. Iam a prison officer. When i return to work, chances are fair that i will get in a altercation with a prisoner.
Im worried my arm will be forced straight beyond its current stopping point, resulting in torn tennons etc.
Would the Bionic Support Brace be the choice of protection for my circumstance?
If not, what would you reccomend?
Thank you.
Randy

Yes the Bionic Elbow has hinges on both sides of the elbow joint and will protect the elbow. There are also straps that criss-cross on the elbow to restrict elbow extension which should help you with having the elbow forced

at

4/2/2016 9:21 AM

My son is recovering from MCL/UCL tear in his non-throwing arm. Had surgery to re-attach (not Tommy John). Looking for added support/protection for HS Football (QB/LB) & Baseball (catcher).
The Bionic elbow would offer him the best protection for his elbow after that surgery. This brace has bilateral hinges to provide medial and lateral support to the elbow, and cross-straps to prevent extension.

at

3/23/2016 11:28 AM

at

3/20/2016 11:25 AM

In December of 2015 I had surgery on my right elbow. I had an ulnar nerve transposition. I am currently having pain and issues with the lateral part of my elbow. I plan on playing softball this spring and was wondering if this brace will help with the pain I have and will it also protect the medial part of my elbow that still has the scar and protect it from injury.
The Bionic Elbow will provide support on the medial and lateral side with hinges and provide compression. The pressure of the hinges could cause pain over your scar, you might want to go with something without the hinges like the Trizone Elbow support. It will provide compression and mile elbow support.
https://www.djoglobal.com/products/donjoy-performance/trizone-elbow-support

at

3/18/2016 9:18 AM

My son is 11 and needs a hinged brace. Do you have a brace like this that is offered in a smaller size?
The smallest size the Bionic Elbow is available in is a Small. It should fit an 11yr. old, depending on the size of their bicep. Please see the Size Chart to determine if the small will work.

at

3/16/2016 7:24 PM

My son had prp treatment for partial ucl tear. He's begun weight training again will this brace allow full extension and support the ucl?
Yes, the Bionic Elbow will allow for full range of motion or you can utilize the cross-straps to limit extension. It also has 2 metal uprights that will support the medial and lateral ligaments of the elbow.

at

2/9/2016 6:55 PM

at

1/28/2016 8:33 AM

Is this brace's hinges adjustable; can the hinged motion be limited between 30-70 degrees.
No, the Bionic Elbow hinge is not adjustable. It will allow for full range of motion, and the cross-straps can be used to prevent extension.

at

1/24/2016 2:41 PM

I'm post repair of a torn biceps tendon and am wondering if the bionic elbow brace gives enough hyperextension support to help protect the elbow, biceps, and tendon during bull riding.
The Bionic Elbow prevents elbow hyperextension by two cross straps in the front of the brace, the hinge is also designed to not allow for hyperextension of the elbow.

at

1/14/2016 2:02 PM

I had surgery in February of 2015 on my left Ulnar nerve which consisted of some peripheral nerve reconstruction and reposition. I try to be a pretty active weight lifter but, during the on going pt, I still continue to issues with joint pain and to me it feels as if I have a very unstable elbow. I was hoping your staff could point me in the right direction because the tennis elbow relief strap I've tried did little to nothing it seems except annoy me. The tommy coppers sleeve I've used, also seem to do little to nothing. Thank you for your time.

Regards
John P.
The Bionic Elbow is a hinged elbow support so it is going to offer more support to the elbow than the previous braces you have tried. The hinges will give both medial and lateral elbow support.

at

1/9/2016 7:38 PM

I dislocated my elbow about a month ago and I was given 4 more weeks until eligible to wrestle. Would this brace speed up my recovery time? And also protect my elbow enough so it doesn't get reinjured?
No brace will speed up the body's receovery time, however the brace will protect the elbow and help to prevent further injury, during recovery

at

1/7/2016 6:40 PM

Would this brace be ok to wear while playing volleyball?
Yes, you can wear the Bionic Elbow while playing volleyball. This brace will support the structures/muscles on the inside and outside of the elbow.

at

1/4/2016 8:28 AM

My 17 year old daughter is a fast pitch softball pitcher, can she pitch while using the brace?
No I don not believe that the brace would work on her throwing arm

at

12/29/2015 1:55 PM

13 year old daughter lost her elbow brace. She dislocated it one year ago. She cheers, will this allow her to tumble and stunt?
The bionic elbow provides medial and lateral support to the elbow and should support her elbow while doing these activities

at

12/26/2015 10:12 AM

My son is a wrestler who dislocated his dominant elbow. Is this brace soft to be able to wear as protection when he goes back to wrestling a match?
The brace is a hinged brace but is covered in neoprene so yes it is soft

at

11/27/2015 3:31 PM

I have your trizone elbow brace and love it! I purchased a size Large and it is very comfortable. I hust purchased a Bionice elbow brace and can barely force it on my arm it is also a large. is it supposed to be this tight, the fit chart says it should be the same as the trizone. Will it loosen up, I even checked the size inside to make sure it is a large. I am perplexed to say the least.
thanks
David
David
The neoprene may fit a bit more snug than the material that makes up the Trizone. If the brace is uncomfortably tight I would return it and get the X-Large

at

11/9/2015 10:22 AM

Does this have a god range of motion for back handsprings? Can I refund it if it's not right for me?
Rose
Yes this brace will extend completely so you can do the back handsprings. Yes you have 60 days to return

at

10/31/2015 12:44 PM

Hello, my daughter has an elbow which dislocates at times. She is a cheerleader and we are looking for an elbow brace to help try to prevent it from dislocating during competitions. Do you have anything you would suggest to try? Thanks
Dorinda
If your daughters elbow dislocates with elbow extension then the Bionic brace can help to reduce extension. I would suggest asking her medical professional for any other options for her.

at

10/27/2015 8:26 AM

Can you play basketball with this on your dominant shooting arm ?
Ceaser
I do not believe that you will be able to shoot with that brace on your shooting arm

at

10/25/2015 6:41 PM

Greetings. I tore my bicep tendon (distal tear at the elbow) during jujitsu class. I had surgery to reattach the tendon to the bone using a screw and I should be able to return to class in 6 months. Is the bionic the right brace for me?

Many thanks.
The Bionic Elbow brace will provide support to the elbow and you can restrict elbow extension if needed

at

10/22/2015 4:23 AM

Would I be able to play basketball in this brace if the brace is on my non dominant hand?
Susan
Yes you should be able to wear the brace on your non-shooting hand

at

10/19/2015 4:44 PM

I have a recent contusion in my elbow is this a good brace for me if i need to keep playing my sport
Avery
The brace is made of 4mm neoprene so it will provide some amount of cushion to the elbow. The bilateral hinges will provide protection to the elbow joint itself.

at

10/16/2015 8:24 AM

Can I pitch in a baseball game with this brace?
Jake
I do not believe you would be able to pitch with this elbow brace on

at

10/8/2015 11:17 AM

Would this brace work will a hyper-extension from playing basketball?
Steven
Yes this brace has straps that can be tightened to restrict elbow extension

at

10/7/2015 4:17 PM

Is the material meant to be tight? I have one that is for compression and I find I have issues wearing it because it's too tight. I have a sublaxating ulnar nerve, cubital tunnel syndrome and chronic tennis elbow. Will this product help my issues?
Gabriela
The brace should be snug but should be so tight that it causes pain. The Bionic Elbow is appropriate for all of the conditions you listed

at

10/7/2015 11:21 AM

Hairline fracture of left elbow. Need something to protect. Is this product good
Steve
Yes the Bionic Elbow will provide the elbow with protection from medial and lateral stress and provide stability

at

9/28/2015 7:29 AM

I have a torn UCL in my elbow, could I use this brace as support and play with it.
Yes this brace would be appropriate for you

at

9/24/2015 4:45 PM

Is this brace waterproof. My son needs something for water polo.
Ken
The brace can be worn in the water it just needs to be rinsed with clean water afterwards and air dried.

at

9/23/2015 8:46 PM

I have bone spurs in my elbow, and am looking for a brace to slightly inhibit full extension so I can shoot a basketball without pain. Can the brace's extension be set so my arm stops just short of full extension?
Wayne
The Bionic Elbow has two straps that can be adjusted to limit elbow extension

at

9/7/2015 4:04 PM

How well does this brace hold up in High School Varsity Football? I have 3 athletes who dislocated their elbows......I'm thinking of trying this brace when they complete rehabilitation.
This brace would work for your football players who have dislocated the elbow. The brace has bilateral hinges to offer medila and lateral stability. The brace also can restrict extension with the straps in the front of the brace

at

8/31/2015 11:30 PM

Can this brace be locked preventing me from bending my elbow?
Joe
No this brace does not lock.

at
Reviews
Bionic Elbow Brace
Write Your Own Review

Your honest feedback
helps other visitors
in selecting their products
No reviews yet.