Details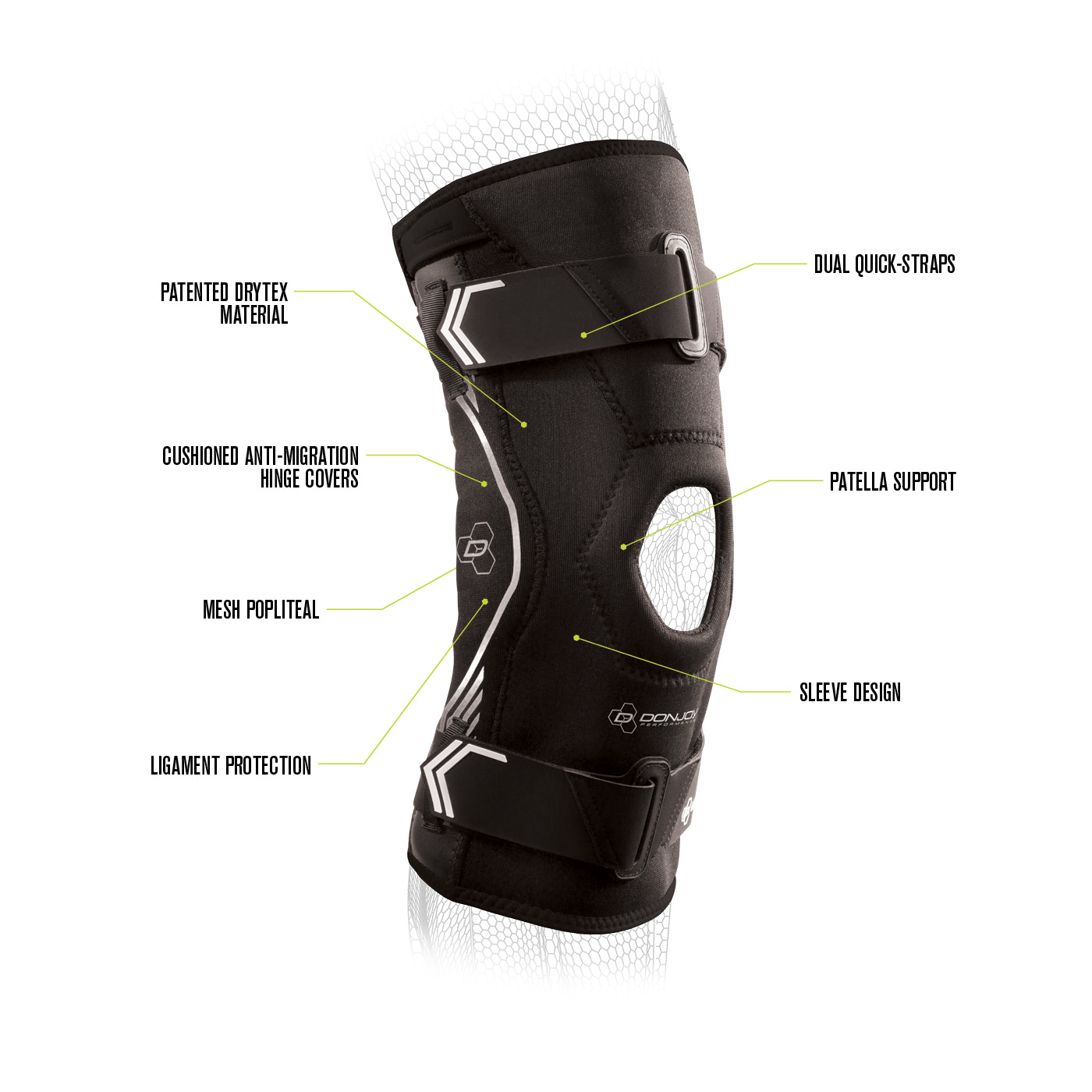 The DonJoy Performance Bionic Drytex Knee Sleeve is a joint stabilizing, bilateral hinged knee sleeve with an open patella design to help protect and stabilize the knee. Constructed with patented Drytex material, the Drytex Knee Sleeve is moisture wicking and breathable to help keep you cool and comfortable. In addition, the dual, quick-strap design allows for easy adjustments during activity.
Features & Benefits
Open Patella buttress helps protect and supports the knee cap
Bilateral polycentric hinges for ligament stability and protection
Patented Drytex Material for moisture wicking, cool and comfortable wear
Cushioned Anti-migration hinge covers for added comfort and anti-migration
Mesh popliteal for breathability and comfortable fit behind the knee
Dual quick-straps for an adjustable, secure fit during activity
Sleeve design for easy application and a secure fit
Reflectivity for enhanced visibility in low-light conditions
Anti-migration silicone hem helps to eliminate slip
Fits right and left knee
Size Chart & Fit Guide
Size is based on three measurements: thigh, knee and calf circumference
| Measurement | S | M | L | XL |
| --- | --- | --- | --- | --- |
| Thigh | 15.5 - 18.5" | 18.5 - 21" | 21 - 23.5" | 23.5 - 26.5" |
| | 39 - 47cm | 47 - 53cm | 53 - 60cm | 60 - 67cm |
| Knee | 13 - 14" | 14 - 15" | 15 - 17" | 17 - 19" |
| | 33 - 36cm | 36 - 38cm | 38 - 43cm | 43 - 48cm |
| Calf | 12 - 14" | 14 - 16" | 16 - 18" | 18 - 20" |
| | 30 - 36cm | 36 - 41cm | 41 - 46cm | 46 - 51cm |
Product Questions
No questions asked yet
Reviews
Bionic Drytex™ Knee Sleeve
Write Your Own Review

Your honest feedback
helps other visitors
in selecting their products
Customer Reviews

6

item(s)
I purchased this sleeve brace, for a partial MCL tear, after using a physician provided brace as I needed a more streamlined and brace to fit under my ski clothing. I was skeptical that I could ski for 7 hours without feeling constrained or uncomfortable. It also provided extra warmth around my knee. I was very surprised that I quickly forgot that I even had it on. I did not experience any pain in my MCL which, was is telling that it got the job done.
Pros: Stream lined, light weight, strong lateral support
Cons: Stitching around the mesh popliteal is a bit itchy is not forgiving.
I'm a disabled Marine Corps Veteran with a knee that is trash, I have to wear a knee brace at all times along with a full leg compression sleeve and the brace is amazing fits under 99% of my clothes and I forget it's there sometimes. The only thing I'm not sure with is care and maintenance, I'm a very active fisherman and I sweat really bad and not to sure of any care and maintenance techniques. Only issue I have ran into is a few stitches have came out.
Pros: Works great and comfortable.
Cons: Not much instruction on care and maintenance.
I have a question, can I use this for cycling ?
I am a full time firefighter, and after 32 years in and out of fire trucks and carrying heavy gear up flights of stairs, my knees are hurting. I tried the DonJoy knee sleeves and what a huge help and difference in my performance. Wearing these while I train not only help keep me pain free during the evolution, but at night when I'm sitting and resting from the days activities, I continue to be pain free. They are cool and lightweight to wear, never interfering with movements and keep your knee in great alignment. I highly recommend if you have knee pain or problems to contact DonJoy today and get their assistance in ordering the right sleeve for you. It will make a huge difference in your pain and mobility. It did me, so much I wear one one each knee now daily!
Bill
Pros: Lightweight, durable, breathable, easy to put on and remove.
Cons: Make sure you get the correct size for your leg. Thats an important key.
Comfortable with great support
This brace was very comfortable and felt like a natural extension of my leg. In my lateral movements I felt a good deal of support. As someone who has had meniscus surgery I felt confident in my sharp aggressive movements while wearing this brace.
Game changer knee brace
Pros: light
Cons: price
You may also like
Regular Price: $9.99

Special Price $7.49