Details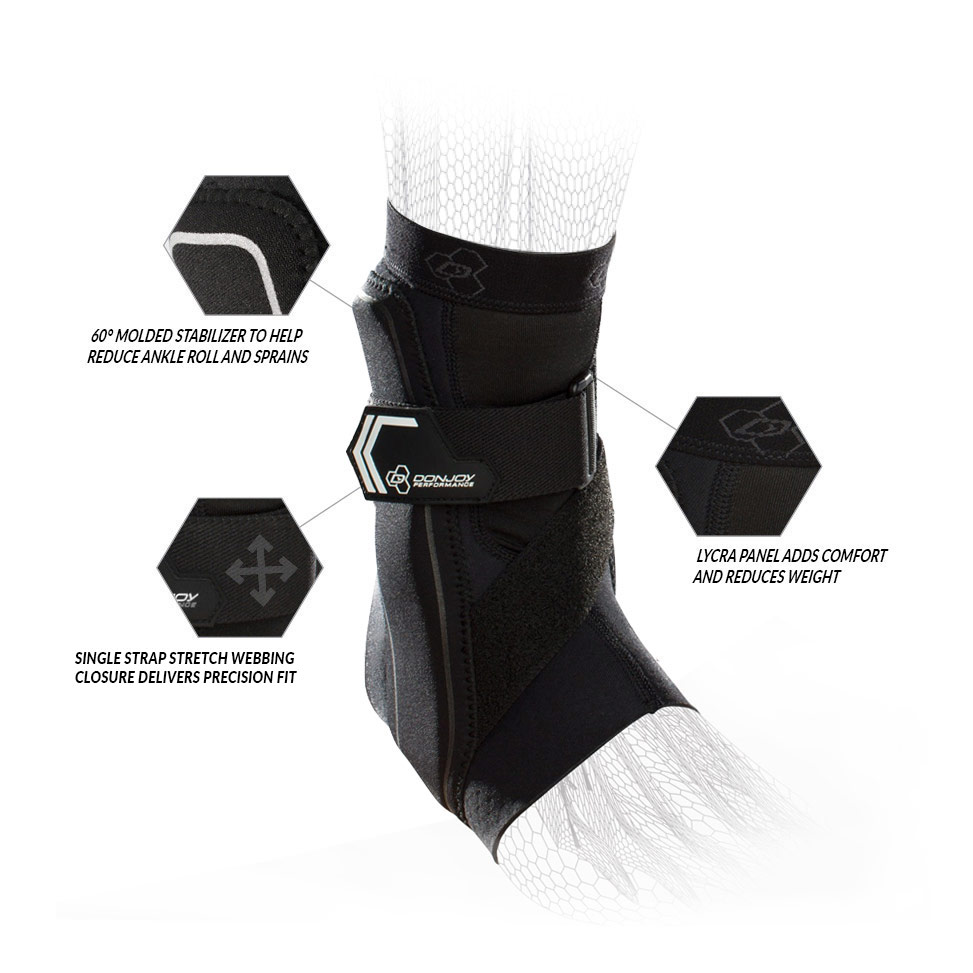 Our DonJoy Performance Bionic Ankle Brace features industry leading support and protection in everyday sport and activity. Single strap, stretch webbing closure system ensures the proper fit for un-matched comfort and controllable compression. The 60° molded stay significantly decreases the risk of rollover and ankle sprain. The anatomical design of the stay allows for this ankle brace to be worm comfortably in all shoes without getting in the way of performance.
Features & Benefits
Pre shaped stabilizer to restrict ankle roll and prevent ankle sprains
Stirrup design and sleeve construction for comfort
Single strap stretch webbing closure delivers precision fit
Comfortably fits in all shoes
Perforated neoprene for breathability
Lycra panel adds comfort and reduces weight
Reflectivity for enhanced visibility in low light conditions
Product Line: Bionic
Size Chart & Fit Guide
Size based on ankle circumference. Measure ankle circumference just above ankle bone.
| Measurement | Small | Medium | Large | X-Large |
| --- | --- | --- | --- | --- |
| Inches | 7.5 - 8.5" | 8.5 - 9.5" | 9.5 - 10.5" | 10.5 - 11.5" |
| Centimeters | 19 - 22cm | 22 - 24cm | 24 - 27cm | 27 - 29cm |
Product Questions
7/19/2016 2:58 PM

I play fielderly hockey. Would this brace fit comfortably under a field hockey shin guard?
Yes, you could wear the Bionic Ankle Brace under your shin guard.

at

6/18/2016 12:33 PM

Is the size of the calf on a medium bigger than the size of the calf on a small?
Our Donjoy Bionic Ankle Brace goes below the calf, sizing wouldn't be an issue and would be based of shoe size.

at

See More Questions

4/7/2016 4:41 PM

What is the bar made out of? I play rugby and can't have metal at all. Also, I know it says 5-8.5. I'm a size 6 and I find all 'small' braces are still too big. Will it fit snuggly on a size 6 in a cleat?
It is made of plastic. Yes it will fit

at

2/26/2016 2:02 PM

Does the bar that is on the medial and lateral sides wrap under the bottom of the foot?
Yes the medial and lateral support does connect underneath the foot. It's low profile, flexible and doesn't compromise comfort.

at

9/15/2015 7:43 AM

What part of the foot do I measure for the fitting?
Monica
This brace is sized by shoes size

at

8/22/2015 3:46 PM

How does this compare to the Aircast A60 in terms of support? I have a partially torn peroneus brevis and although the A60 is usually sufficient, at times it isn't quite rigid enough. Also, I wear the brace in non-athletic shoes, so bulk is important to me as well; how does this compare to the A60 in terms of how "wide" it is?
Donna
This brace is the same bulkiness as the A60 and the same support level. If you want something more supportive the next step would be either the Airsport Ankle brace of the Don Joy Stabilizing Pro Ankle brace. The Stabilizing Pro is less bulky than the AirSport.
http://www.betterbraces.com/donjoy-stabilizing-pro-ankle-brace http://www.betterbraces.com/aircast-airsport-ankle-brace

at

8/19/2015 8:08 PM

I have two active teenage and pre teen girls who from time to time have rolled their ankles . They want to wear low profile basketball shoes so I wanted to try a brace to prevent injuries. How would this one work? Can it be worn under a sock? Thanks
Mellisa
All of our ankle braces should be worn over socks. This brace is for mild ankle support and is low profile. Should fit into their shoes

at

8/17/2015 3:08 PM

Is there a stabilizer on the inner side as well?
Yes there is a rigid upright on both sides of the ankle

at

6/16/2015 8:02 AM

Is the support running down the outside of the brace a hard rigid piece?
Yes, it is a rigid 60deg molded plastic support.

at
Reviews
Bionic Ankle Brace
Write Your Own Review

Your honest feedback
helps other visitors
in selecting their products
No reviews yet.
You may also like
Regular Price: $52.99

Special Price $42.39