Details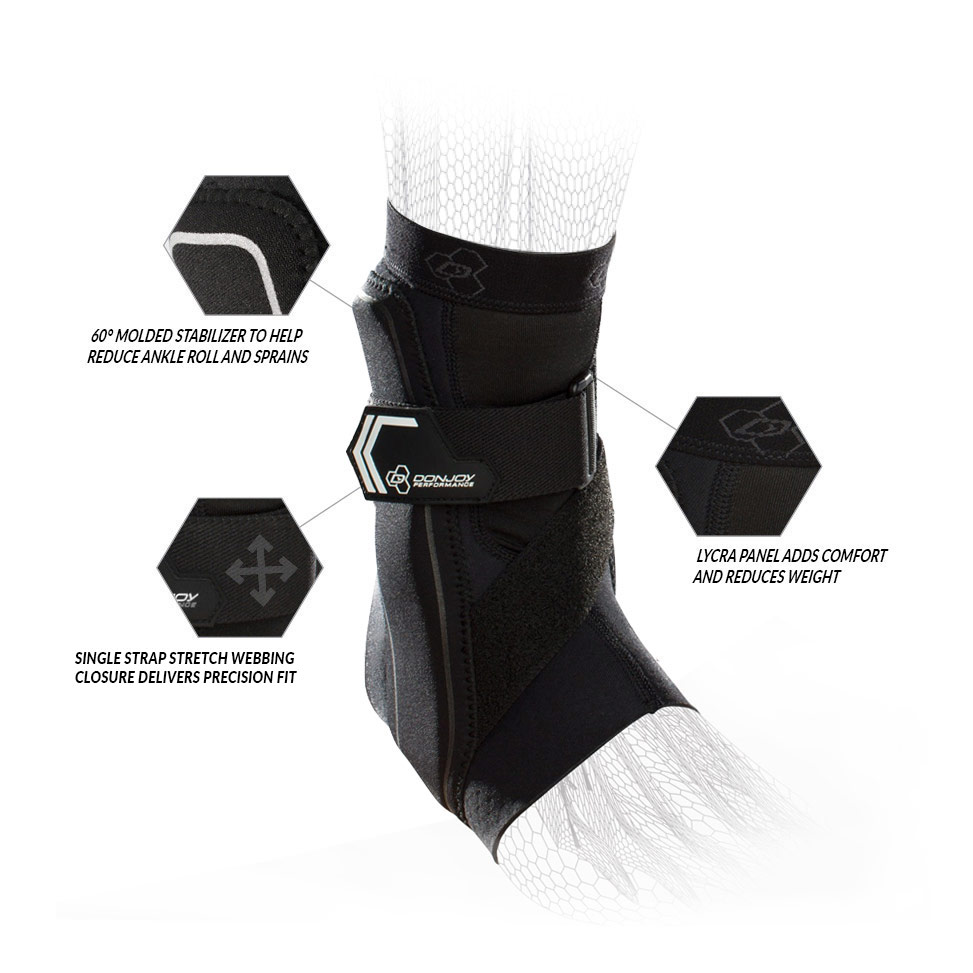 Our DonJoy Performance Bionic Ankle Brace features industry leading support and protection in everyday sport and activity. Single strap, stretch webbing closure system ensures the proper fit for un-matched comfort and controllable compression. The 60° molded stay significantly decreases the risk of rollover and ankle sprain. The anatomical design of the stay allows for this ankle brace to be worm comfortably in all shoes without getting in the way of performance.
Features & Benefits
Pre shaped stabilizer to restrict ankle roll and prevent ankle sprains
Stirrup design and sleeve construction for comfort
Single strap stretch webbing closure delivers precision fit
Comfortably fits in all shoes
Perforated neoprene for breathability
Lycra panel adds comfort and reduces weight
Reflectivity for enhanced visibility in low light conditions
Product Line: Bionic
Size Chart & Fit Guide
Size based on ankle circumference. Measure ankle circumference just above ankle bone.
| Measurement | Small | Medium | Large | X-Large |
| --- | --- | --- | --- | --- |
| Inches | 7.5 - 8.5" | 8.5 - 9.5" | 9.5 - 10.5" | 10.5 - 11.5" |
| Centimeters | 19 - 22cm | 22 - 24cm | 24 - 27cm | 27 - 29cm |
Product Questions
7/19/2016 2:58 PM

I play fielderly hockey. Would this brace fit comfortably under a field hockey shin guard?
Yes, you could wear the Bionic Ankle Brace under your shin guard.

at

6/18/2016 12:33 PM

Is the size of the calf on a medium bigger than the size of the calf on a small?
Our Donjoy Bionic Ankle Brace goes below the calf, sizing wouldn't be an issue and would be based of shoe size.

at

See More Questions

4/7/2016 4:41 PM

What is the bar made out of? I play rugby and can't have metal at all. Also, I know it says 5-8.5. I'm a size 6 and I find all 'small' braces are still too big. Will it fit snuggly on a size 6 in a cleat?
It is made of plastic. Yes it will fit

at

2/26/2016 2:02 PM

Does the bar that is on the medial and lateral sides wrap under the bottom of the foot?
Yes the medial and lateral support does connect underneath the foot. It's low profile, flexible and doesn't compromise comfort.

at

9/15/2015 7:43 AM

What part of the foot do I measure for the fitting?
Monica
This brace is sized by shoes size

at

8/22/2015 3:46 PM

How does this compare to the Aircast A60 in terms of support? I have a partially torn peroneus brevis and although the A60 is usually sufficient, at times it isn't quite rigid enough. Also, I wear the brace in non-athletic shoes, so bulk is important to me as well; how does this compare to the A60 in terms of how "wide" it is?
Donna
This brace is the same bulkiness as the A60 and the same support level. If you want something more supportive the next step would be either the Airsport Ankle brace of the Don Joy Stabilizing Pro Ankle brace. The Stabilizing Pro is less bulky than the AirSport.
http://www.betterbraces.com/donjoy-stabilizing-pro-ankle-brace http://www.betterbraces.com/aircast-airsport-ankle-brace

at

8/19/2015 8:08 PM

I have two active teenage and pre teen girls who from time to time have rolled their ankles . They want to wear low profile basketball shoes so I wanted to try a brace to prevent injuries. How would this one work? Can it be worn under a sock? Thanks
Mellisa
All of our ankle braces should be worn over socks. This brace is for mild ankle support and is low profile. Should fit into their shoes

at

8/17/2015 3:08 PM

Is there a stabilizer on the inner side as well?
Yes there is a rigid upright on both sides of the ankle

at

6/16/2015 8:02 AM

Is the support running down the outside of the brace a hard rigid piece?
Yes, it is a rigid 60deg molded plastic support.

at
Reviews
Bionic Ankle Brace
Write Your Own Review

Your honest feedback
helps other visitors
in selecting their products
Customer Reviews

12

item(s)
awesome brace for post-sprain
My 13 yr old daughter used this brace after a severe ankle sprain and it has been wonderful for her. She felt amazing support and was able to walk with it on only 3 days after crutches do to the side support she felt while wearing it. We walked all over NYC and she didn't complain about it once. It was snug and didn't rub or bother her at all. It was just what she needed before transitioning into a "sock" brace as she eased back into her dance training.
Pros: great stability, easy to use
Share Your Usage: Daily Use, Recovering from Injury

This brace is comfortable but still has very good support. I have used it for several different sports.
Pros: Comfortable. Good support.
Cons: Difficult to get on and off. Would not be good for a fresh injury, but it works great as added support once the injury has improved enough to resume activities.
Share Your Usage: Preventing Injury, Sports, Occasional Use

Recently rolled my ankle on the golf course. Bought the Donjoy Bionic ankle brace and it really added a great deal of support. Was actually able to walk almost normally within a few days while wearing the brace.
Pros: Supportive, lightweight, comfortable, inexpensive.
Cons: Since the sleeve is a pretty tight fit, putting it on a sore swollen ankle can be a little painful.
It did seem to help some but when I tried to walk across the beach in the sand. My ankle continued to roll quite often. So for me not that effective
Pros: Helpful on flat ground
Cons: Not effective anywhere else
Share Your Usage: Chronic Instability

Hi Gary, Thank you for your feedback. Sorry this brace did not work for you. We offer a no-risk, unconditional 30-day money back guarantee. View our return policy and start the returns process here: https://www.betterbraces.com/returns. Please contact customer service for any issues. Thank you, Customer Service 800-553-6019
11 Jul, 2017
Be safe and order s size up
Ordered this brace, came within 2 days as shipment stated however I wish I took more consideration reading reviews.
Pros: Durable and gives support, not bulky
Cons: Very snug and if you have an injury it is painful to put in and take off . I have narrow feet and I ordered based on my shoes size and it is very hard to wear not to mention painful
Share Your Usage: Recently Injured, Recovering from Injury

Increases support, permits return to physical training
I suffered calcaneous fracture and complex ankle fracture, requiring multiple surgeries with titanium implants. This resulted in much swelling, ankle weakness, and reduced my level of physical activity. With this brace and orthotics, I resumed physical training, lost weight, and increased my independence!
Pros: Lightweight, easy to wear and washable. Fits many shoes.
Cons: Ankle may swell if worn too long.
Share Your Usage: Recovering from Injury, Sports, Chronic Instability

It does not fit in a variety of running shoes or boots.
--
Hi Tierney, thank you for your feedback. Sorry to hear that this product was not ideal for you. The Bionic fits most shoes but not all shoes. We recommend trying the Trizone Ankle Sleeve. -Customer Service
The brace gives great support while being sleek in the design. I have had a devastating injury and this helps a lot. The only issue I have is the sizing goes by shoe size but it's very tight. It works but a little hard to get on and off.
Outstanding product for use after ligamentous ankle injury!
Had torn the medial tibial ligament of my right foot which had put me out of commission for close to one year. Following recuperation, I was experiencing temporary return of pain every time I would try to work out, despite trying different types of able braces. However, after starting to use the bionic ankle brace, I was able to accelerate my work-outs and sports activities to my original levels with only minimal temporary discomfort. Truly a life-saver!
I have coached youth football for 29 years and seen a lot of sprains in my day. This is best, most comfortable ankle brace out there, per my players. I have a kid who prone to sprains, so he wears his to every practice and game, it does reduce the chance of re-spraining, due to its construction. I highly recommend this product.