Details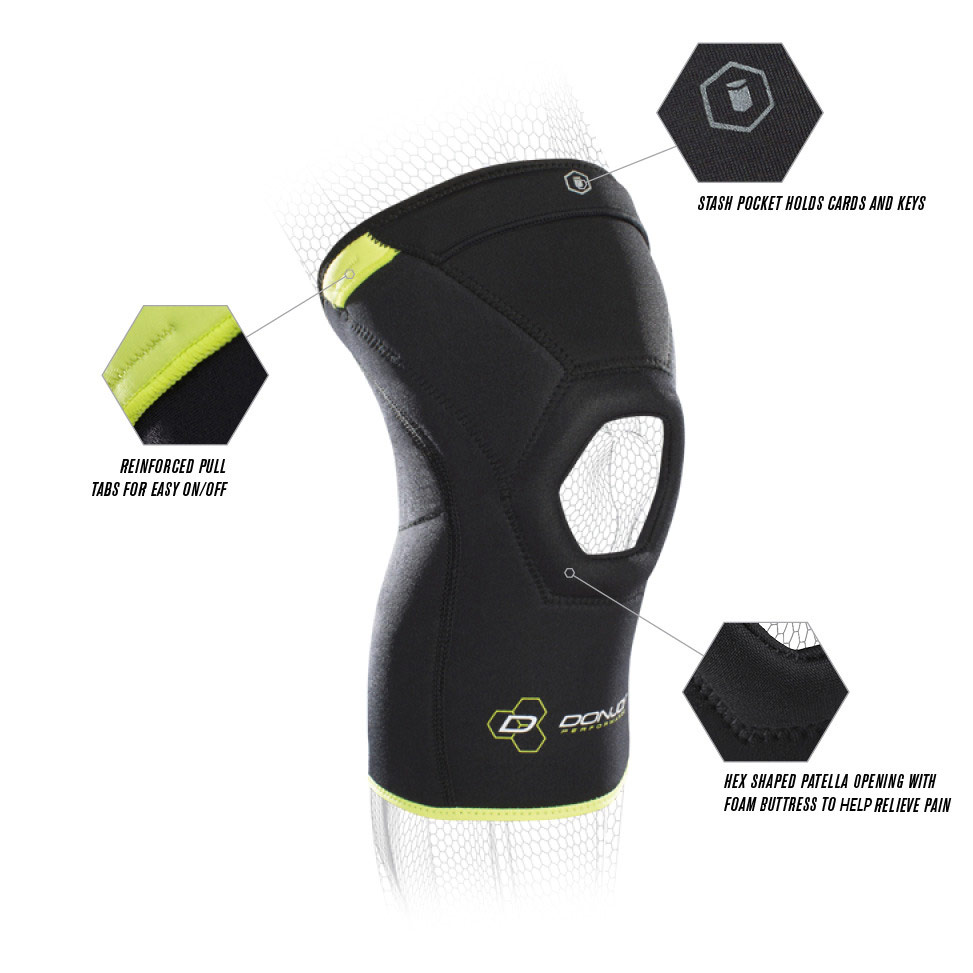 Get Your Move On!
Our DonJoy Performance Anaform 4mm Knee Sleeve delivers fit and function. The Hex shaped Patella opening provides Patella support and stability while articulating more freely as the knee goes through flexion and extension. Asymmetrical hem lines allow for uncompromised comfort and free range of motion. Ideal for overuse injuries, inflammation/swelling and stiff/achy joints, the 4mm knee sleeve features a unique material set which combines neoprene for thermal compression and lycra for reduced weight.
Features & Benefits
Padded Hex shaped Patella opening
Asymmetrical hem line and ergonomic construction for tailored fit
Lycra panel adds comfort and reduces weight
Stash pocket holds cards and keys
Reinforced pull tabs for easy on/off
Anti-migration technology helps to eliminate slip
Reflectivity for enhanced visibility in low light conditions
Also recommended for: Strains, Soreness, Bursitis, Tendonitis, Patella Support/Stability
Size Chart & Fit Guide
Measurement taken at the center of the knee (directly over patella)
| Circumference | Thigh (Above knee 15cm) | Knee Center | Calf (Below knee 15cm) |
| --- | --- | --- | --- |
| XS | 13.0''-15.5'' | 12"-13" | 10"-12" |
| S | 15.5"-18.5" | 13"-14" | 12"-14" |
| M | 18.5"-21" | 14"-15" | 14"-16" |
| L | 21.0"-23.5" | 15"-17" | 16"-18" |
| XL | 23.5"-26.5" | 17"-19" | 18"-20" |
How to Measure
1. Stand with your legs shoulder-width apart, legs slightly bent and leg muscles contracted.

2. Measure up six inches from the center of your knee with a tape measure, as shown.

3. Measure the circumference of your thigh at the 6-inch mark, as shown.

4. Measure down six inches from the center of your knee with a tape measure, as shown. Then measure the circumference of your calf at the 6-inch mark.
Still have questions? Call our support team at 844-331-7767 to chat with a fit specialist!
How to measure
Product Questions
9/14/2016 7:57 AM

I am in between sizes. I'm at the top of a small or bottom of a medium. Which one should I order? I am worried a small will be too tight or a medium may slip down. If incorrect size can I exchange for free?
It would be best to go with the Medium AnaForm 4MM Open Patella Knee Sleeve, as they tend to run on the small side. You may return it for refund if there is a size issue and purchase the correct one.

at

4/22/2016 3:41 PM

I am a triathlete coming back from ACL & meniscus surgery looking for a brace or sleeve that would be comfortable for running and biking once I am cleared by my doctor for those activities.
If your doctor says you only need a sleeve when returning then the Anaform Cooling Knee Sleeve will be fine for you it will provide compression https://www.djoglobal.com/products/anaform-cooling-knee-under-sleeve

at

See More Questions

3/17/2016 8:43 AM

What is the total length of this support?
The length is 11.5"

at

10/24/2015 4:18 AM

I had knee surgery about a year ago and looking for a lighter brace for activity. I experience stiffness and swelling a lot. Would this be something that would work for me?
The Knee Sleeve will provide compression and warmth so if that is what you are looking for then this sleeve is right for you

at
Reviews
AnaForm 4MM Open Patella Knee Sleeve
Write Your Own Review

Your honest feedback
helps other visitors
in selecting their products
No reviews yet.