Details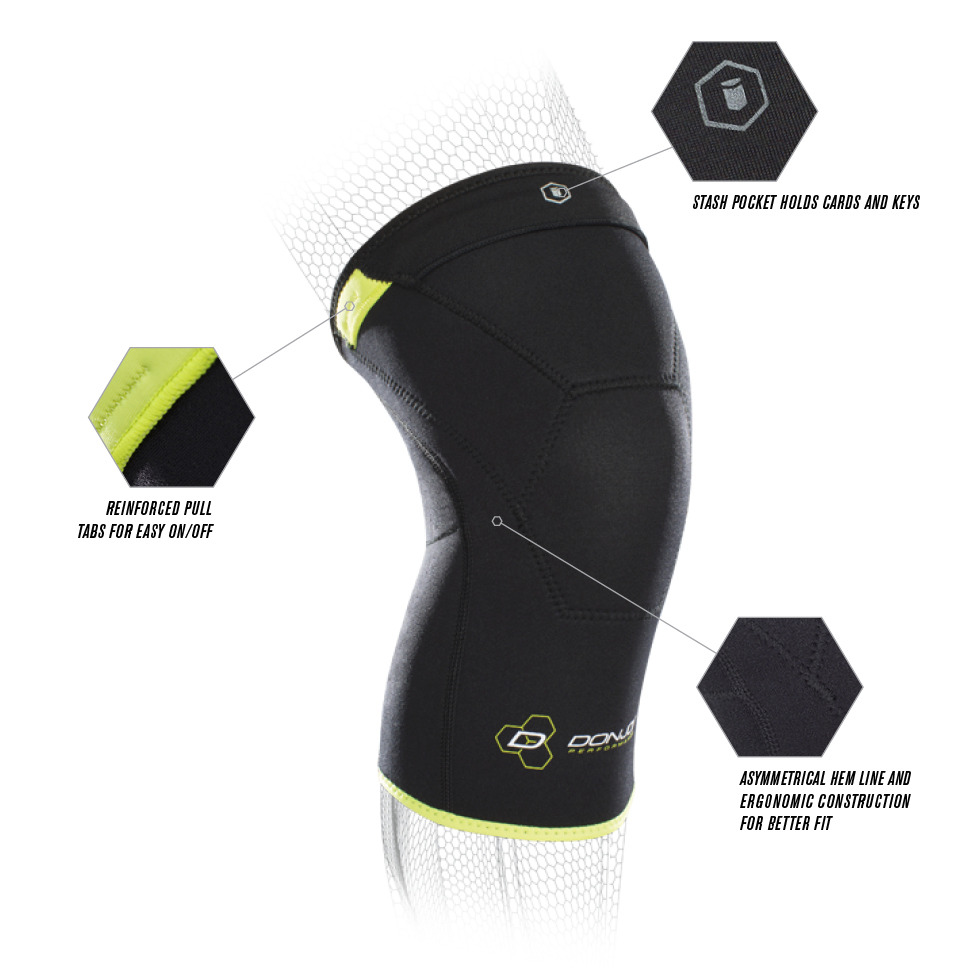 Our DonJoy Performance Anaform 2mm Knee Sleeve delivers fit and function. Closed Patella design offers heat retention while asymmetrical hem lines allow for comfort and free range of motion. Ideal for overuse injuries, inflammation/swelling and stiff/achy joints, the 2mm knee sleeve features a unique material set which combines neoprene for thermal compression and lycra for reduced weight.
Features & Benefits
Sleeve design offers compression and mild support while keeping the knee warm
Asymmetrical hem line and ergonomic construction for tailored fit
Lycra panel adds comfort and reduces weight
Stash pocket holds cards and keys
Reinforced pull tabs for easy on/off
Anti-migration technology helps to eliminate slip
Reflectivity for enhanced visibility in low light conditions
Also recommended for: Strains, Soreness, Bursitis, Tendonitis
Size Chart & Fit Guide
Measurement taken at the center of the knee (directly over patella)
| Circumference | Thigh (Above knee 15cm) | Knee Center | Calf (Below knee 15cm) |
| --- | --- | --- | --- |
| XS | 13.0''-15.5'' | 12"-13" | 10"-12" |
| S | 15.5"-18.5" | 13"-14" | 12"-14" |
| M | 18.5"-21" | 14"-15" | 14"-16" |
| L | 21.0"-23.5" | 15"-17" | 16"-18" |
| XL | 23.5"-26.5" | 17"-19" | 18"-20" |
How to Measure
1. Stand with your legs shoulder-width apart, legs slightly bent and leg muscles contracted.

2. Measure up six inches from the center of your knee with a tape measure, as shown.

3. Measure the circumference of your thigh at the 6-inch mark, as shown.

4. Measure down six inches from the center of your knee with a tape measure, as shown. Then measure the circumference of your calf at the 6-inch mark.
Still have questions? Call our support team at 844-331-7767 to chat with a fit specialist!
How to measure
Product Questions
8/19/2016 12:23 PM

What is the length of the Knee Sleeve?
The following are the lengths of each size AnaForm 2mm Knee Sleeve:
Small: 11.25"
Medium:11.75"
Large:11.75"
XL:12.25'


at

8/6/2015 9:39 PM

Is this 1 sleeve? So, if I want 2 sleeves, I need to have 2 in the cart?
BJ
If you would like two sleeves then yes you will need to add two to your cart.

at
Reviews
AnaForm 2MM Knee Sleeve
Write Your Own Review

Your honest feedback
helps other visitors
in selecting their products
Customer Reviews

3

item(s)
Not useful for my application
Purchased this to use for while road cycling. I'm recovering from a spill where I smacked my kneed on the pavement and I've been experiencing pain and instability.

The sleeve has quality construction but it kept slipping off knee/thigh when I tried it on my first ride. I had to remove it halfway into my ride and threw it away because I could not carry it. I sweat a lot which may have been a contributing factor to the slippage.
Pros: Quality construction/stitching.
Cons: Slippage made it unusable while I was cycling, I do not recommend it for that application. Perhaps applying some kind of under layer or sticky something on my skin would help prevent the slippage and maintain purchase. I've had better luck using compression wear not made from neoprene. A larger size of sleeve may have helped. In another sports application with less flexion/bending such as running may be a better application for this product.
Share Your Usage: Recovering from Injury, Sports

Hi Matthew, sorry this product did not work for you. The DonJoy Performance Trizone Knee has anti-migration technology to help prevent slipping. This brace may be more suitable for your activities: https://www.betterbraces.com/trizone-knee-support. Thank you, Customer Service
17 Jul, 2017
This my first closed patella brace and it is very good. It gives a snug, re-assuring feel to an unstable knee. Long silhouette is much more supporting then most otc shorter braces.
Cons: No cons.
Share Your Usage: Daily Use, Chronic Instability

Too small, but I'm sure it would have been great if it had fit.
Measured, used the chart but it was way to small. Bought it for my daughter n law. She didn't return it. My son hurt is elbow lifting weights. The brace fit his arm perfectly. So now it has turned into an elbow brace.